Japan has accommodations for every type of traveler. Hotels designed by world-renowned architects, tiny capsule hotel that resemble space shuttles, minimal interiors for the 'wabi-sabi' experience, and more. But for travelers looking for a traditional type of accommodation, we recommend renting an entire 'machiya' house (a traditional Japanese house).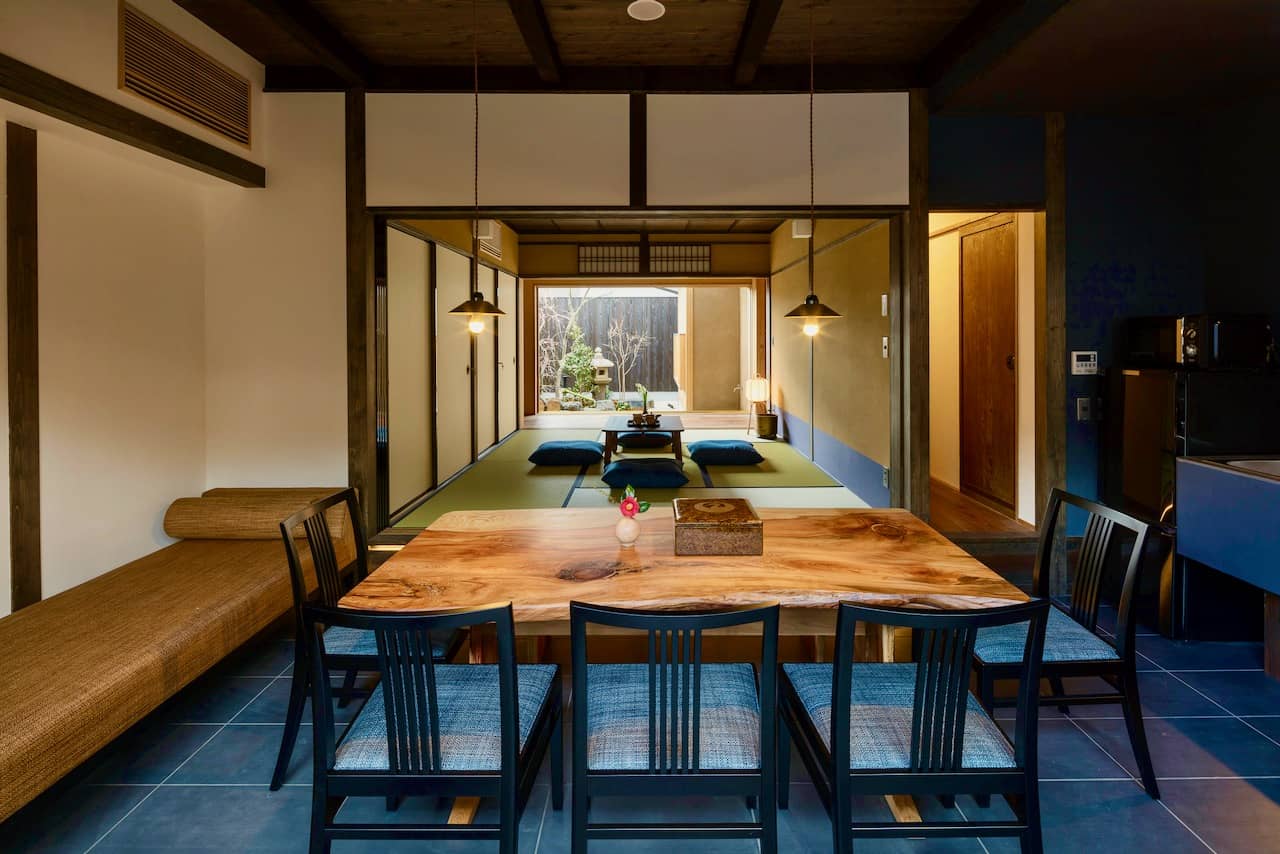 Staying in a 'machiya' house means staying in a vacation rental (holiday house) in Japan! What's more, stay with us at MACHIYA RESIDENCE INN, and you'll have the best of both worlds: a traditional experience with modern comforts. If you just want to know our Kyoto accommodation, Kanazawa accommodation, or Takayama accommodation recommendations skip towards the end! Otherwise, keep reading to see why staying in a 'machiya' can be the perfect place for you during your next Japan trip!
What is a 'machiya'?
'Machiya' are traditional wooden Japanese townhouses that served as both a storefront and place of residence for merchants and their families. These wooden architectures can still be found in many historically preserved cities throughout Japan (such as Kyoto, Kanazawa, and Takayama). Nestled in between modern buildings and tucked away in alleyways and small side streets, they bring a sense of nostalgia and historical charm to these cities.
---
Are 'machiya' different from 'ryokan' ?
Yes! As an accommodation type, 'machiya' and 'ryokan' are quite different. Although both are both traditional Japanese wooden architectures, they will vastly differ in how you spend your time in Japan!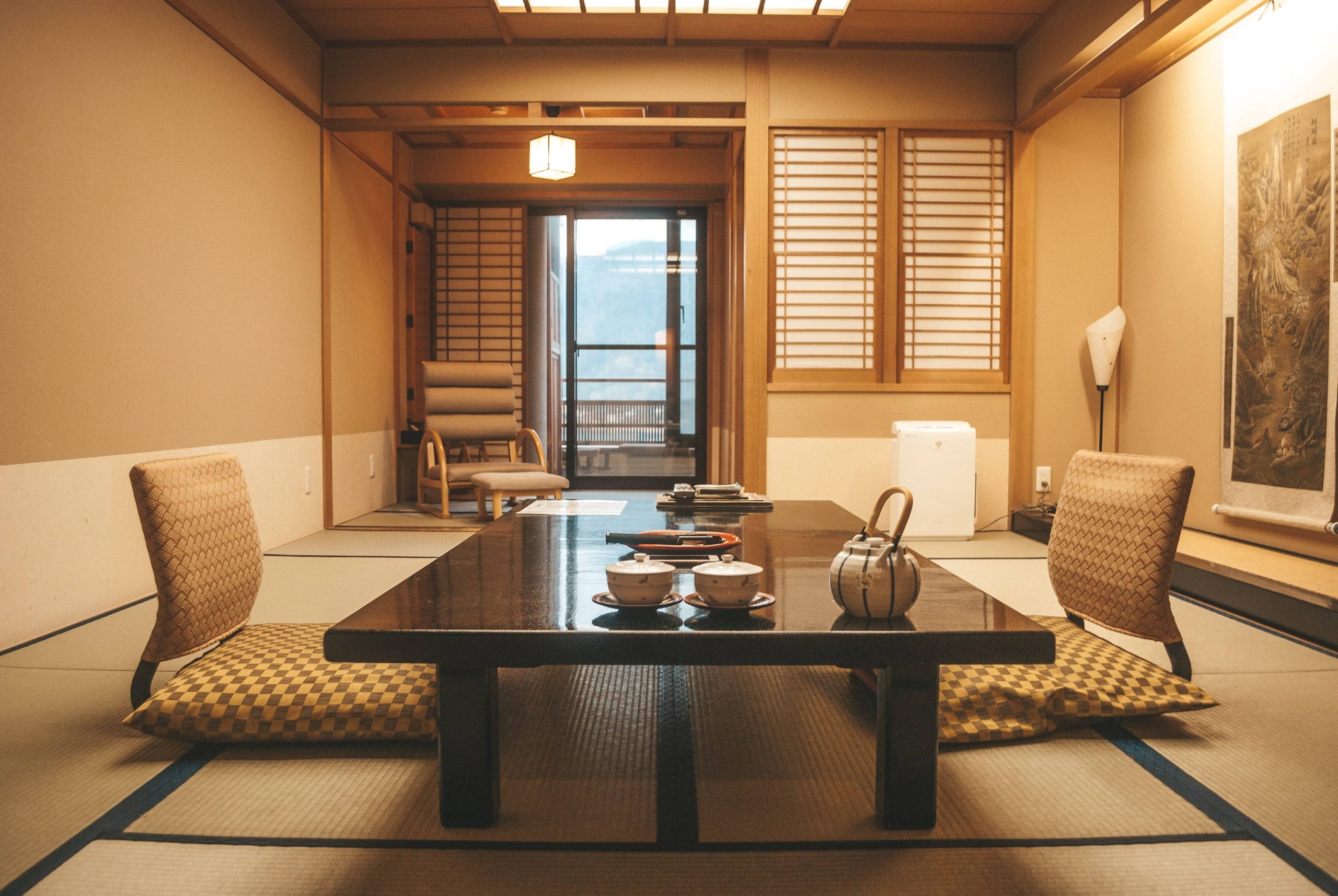 'Machiya' are private residences, and often two-storey townhouses. Therefore, when you rent a 'machiya' accommodation, you are able to rent out the entire two-storey townhouse with multiple rooms (kitchen, living room, bedrooms, etc.) all to yourself. You won't find any other guests or staff at the machiya house. Although, if you are a guest of MACHIYA RESIDENCE INN, you will have access to our 24-hour staff services during your stay – we are available in a nearby location, and are just a phone call away!
On the other hand, 'ryokan' are traditional Japanese inns with multiple rooms. Each room is occupied by different groups of guests, and there is often a shared common space (bathroom, dining area, etc.). In addition, there is a staff on-site, much like a hotel.
---
TOP 5 reasons why you should stay in a 'machiya' house
1) Immerse yourself in local life
What better way to get to know a city than to stay in a neighborhood where the locals truly are? One great advantage of staying in a machiya house is that you can truly feel as if you are part of the community. Walk down "hidden" side streets to arrive at your machiya house. Slide open a lattice door and take a morning walk to the temple down the street. Pop by a local market to pick up locally-grown produce and bring it back to your kitchen!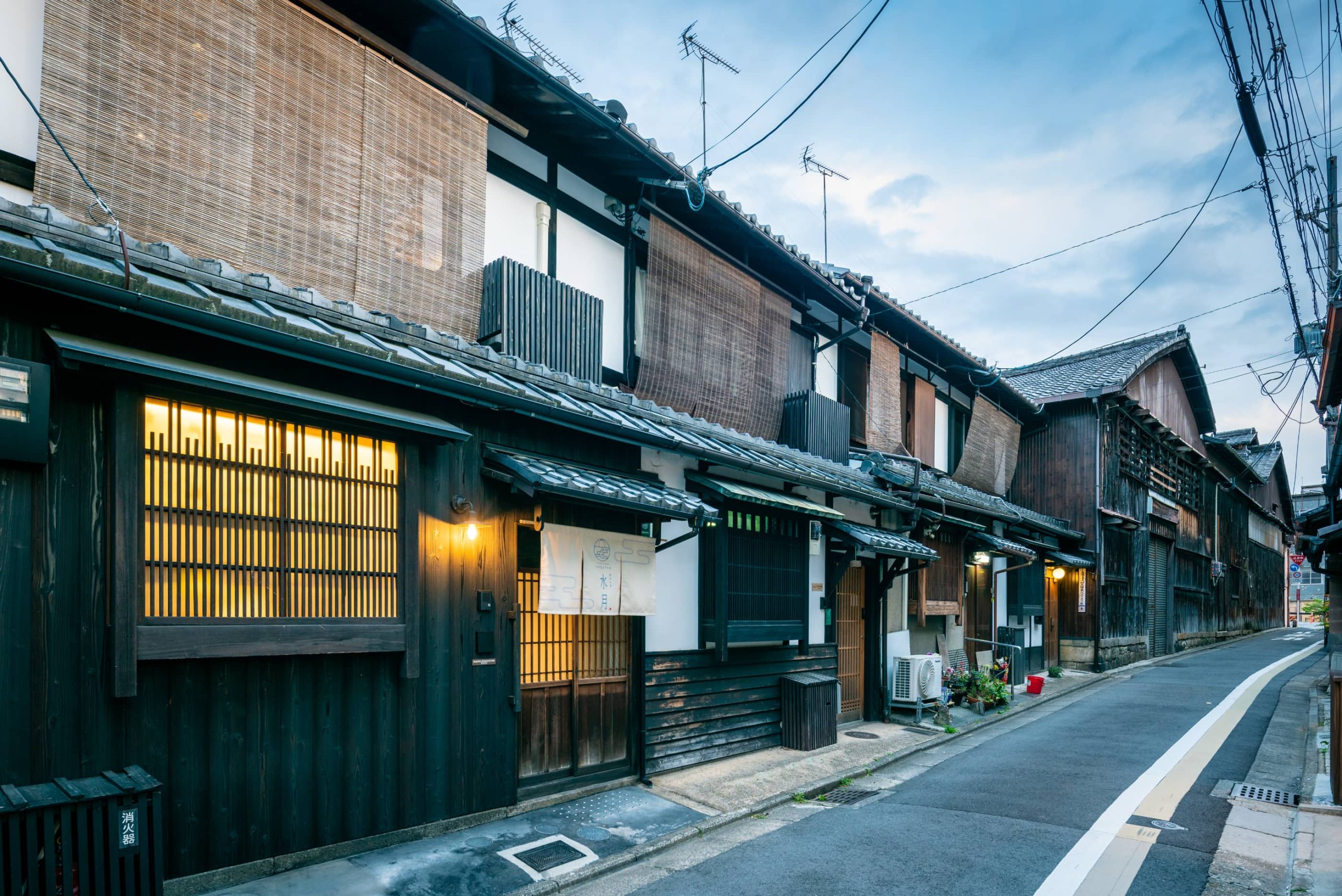 2) Updated kitchen and bathrooms with modern facilities
While staying in an authentic Japanese house will add that unique experience to your Japan trip, we haven't forgotten about the needs of our modern guests. At MACHIYA RESIDENCE INN, every machiya house has been renovated to maintain its traditional architecture & design, and have updated kitchen & bathroom facilities to ensure that you have a comfortable stay.
Our kitchens feature IH stovetops, microwave, toaster, kettle, cookware (pots & pans), cutlery, dining ware, and more! We've prepared everything that you would need to either cook light meals, or go all out with your cooking. Plus, our machiya homes all have a washing machine, which is perfect for both short & long stays!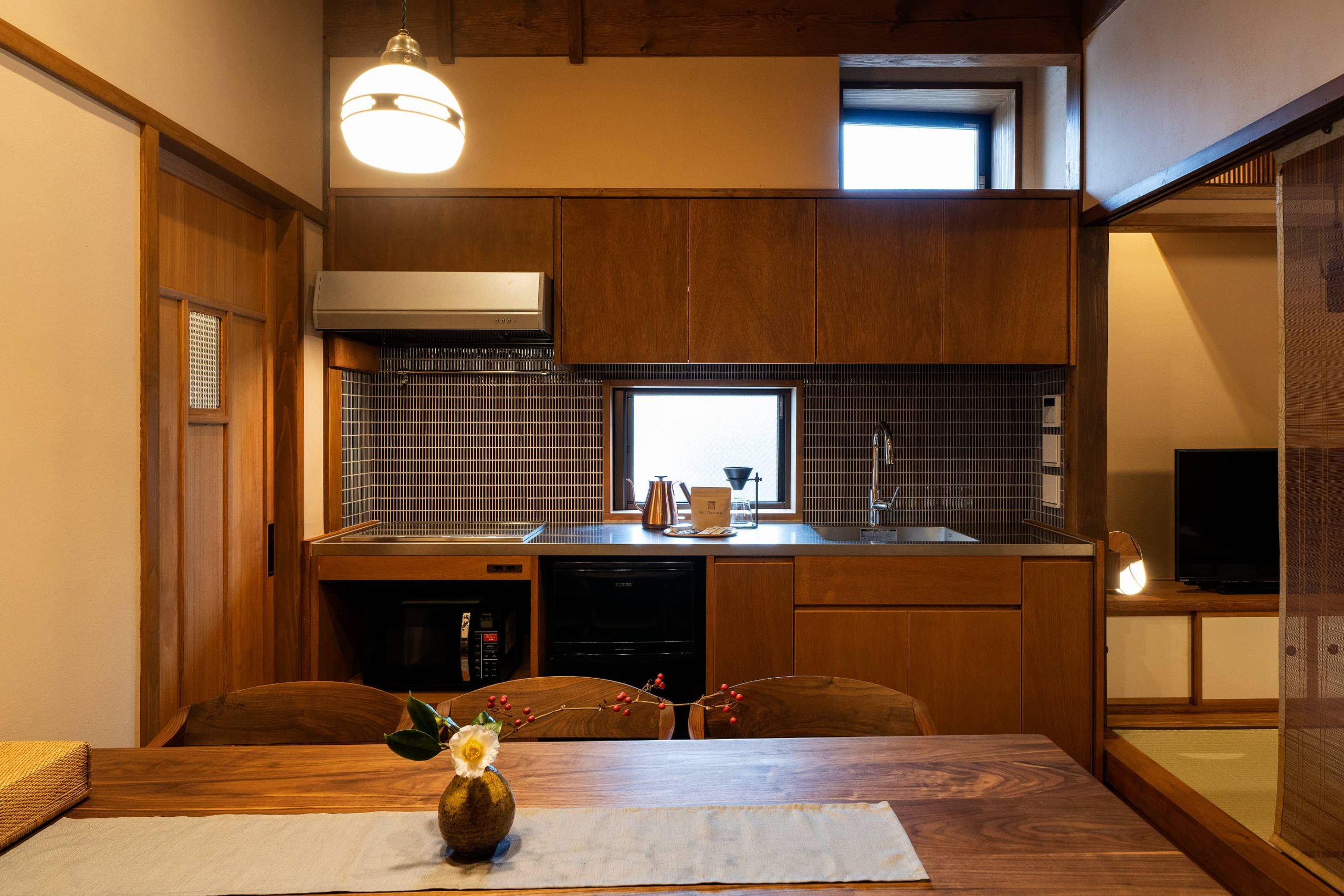 3) Choose a machiya house perfect for you
When you're choosing an accommodation, what do you prioritize? Location? Design? Size?
Well, no matter what you're looking for, MACHIYA RESIDENCE INN will have the perfect machiya house for you. Unlike a hotel or 'ryokan', we aren't limited to one area. In Kyoto city alone, we have over 45+ machiya homes in various neighborhoods throughout the city. If you want to stay in the historical Gion area with 5 guests, we have a machiya for you! Or perhaps you would like to be within walking distance to Kyoto Station or need a machiya with multiple bedrooms – we have the perfect machiya for you, too.
If you don't know where to start, feel free to ask the MACHIYA RESIDENCE INN staff for our suggestions!
4) Great for families & groups
As each of our 'machiya' townhouses have a unique design and layout, you can enjoy a spacious and relaxing stay no matter who or how many people you stay with. Rather than reserving multiple rooms in a hotel, relax in a spacious machiya atmosphere. Machiya house are great as a family accommodation, especially if you're traveling with a large group or with children. You can reserve a machiya with multiple bedrooms, so everyone can have their own private space while staying together.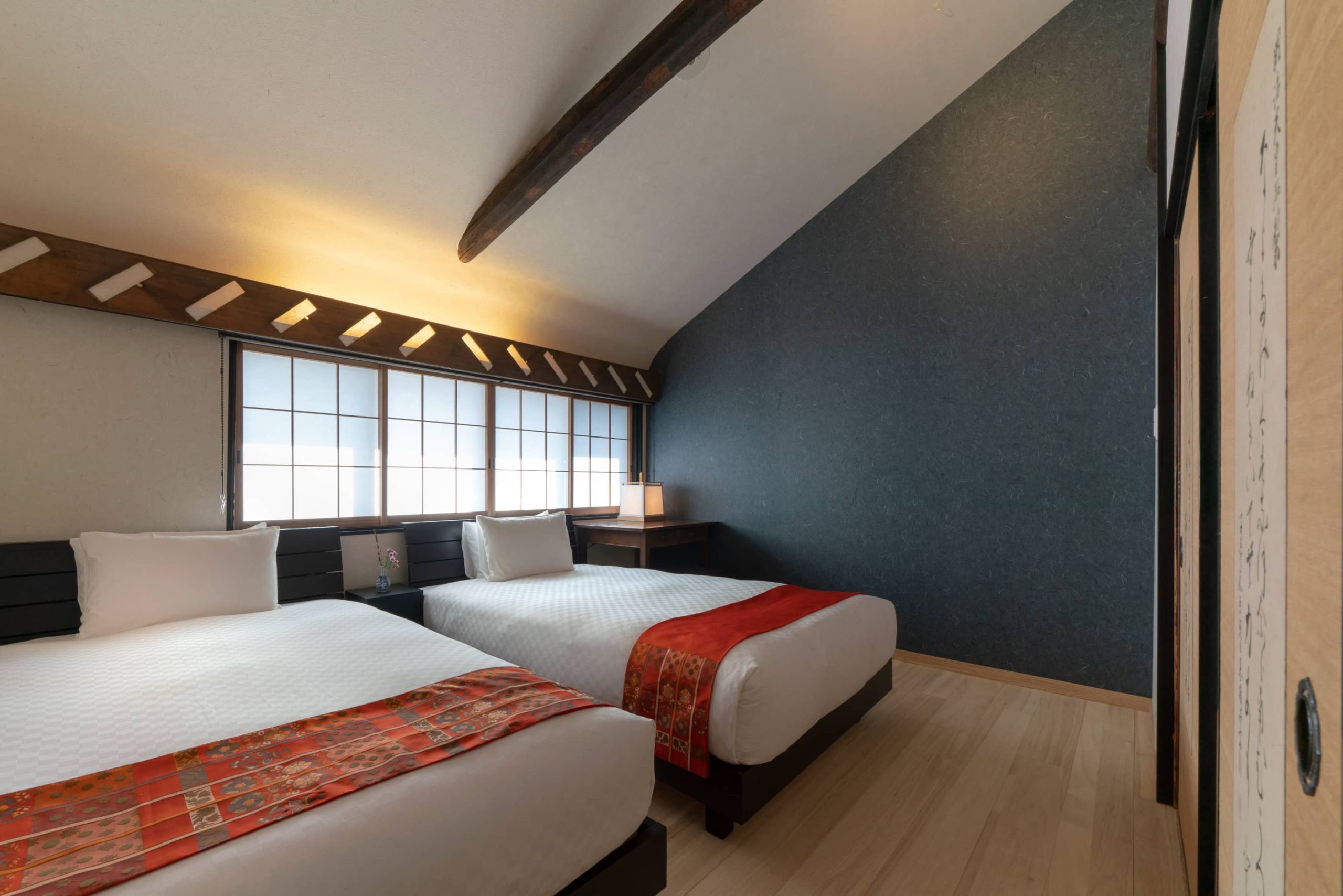 5) Friendly guest services staff
While having your own private space may be ideal, we understand that there may be times when you need assistance during your stay. That's where our friendly MACHIYA RESIDENCE INN guest services staff come in!
Whether you'd like assistance with making a taxi reservation or restaurant reservation, our English & Japanese-speaking staff will always be available to help out. Even if you'd like to ask for our staff's favorite restaurant in the city, or an "off the beaten path" sightseeing recommendation, there's no better person to ask than our staff!
---
Recommended Machiya – Kyoto Holiday Rentals
'Umenoki' Machiya House: Just north of the historical Gion district, and located along the tranquil Shirakawa River. Up to 4 guests can stay here.
'Bonbori-an' Machiya House: Hidden down a small street in the Higashiyama District. Step outside of your machiya house to enjoy a view of the famous Yasaka Pagoda. Up to 4 guests can stay here.
Take a look at the link below to view more traditional machiya holiday homes in Kyoto:
---
Recommended Machiya – Kanazawa Holiday Rentals
'Kinnoma' Machiya House: Within walking distance to Kanazawa's famous fresh market Omicho Ichiba & the historical Higashi Chaya tea district. Up to 8 guests can stay here.
'Shiori' Machiya House : This traditional Japanese townhouse is located in Nagamachi – the former samurai district of Kanazawa city.
Take a look at the link below to view more traditional machiya holiday homes in Kanazawa:
---
Recommended Machiya – Takayama Machiya Rentals
THE MACHIYA HANARE: Located in the historical district of Takayama's Old Town, this private machiya house is located along the Miyagawa River. Up to 4 guests can stay here.