Have you been dreaming about a future trip to Kyoto, Japan? Scrolling through Instagram and blogs, and asking family or friends for advice? You've probably have been thinking about what to see, what to do, and especially where to stay.
If you go the normal route, you may choose a hotel close to Kyoto Station as it is convenient. Or perhaps you'll stay in a boutique art hotel as it is currently on trend. But we've got another suggestion that is guaranteed to make your Kyoto holiday a once-in-a-lifetime experience.
Rent an entire machiya – an authentic traditional Japanese townhouse during your stay.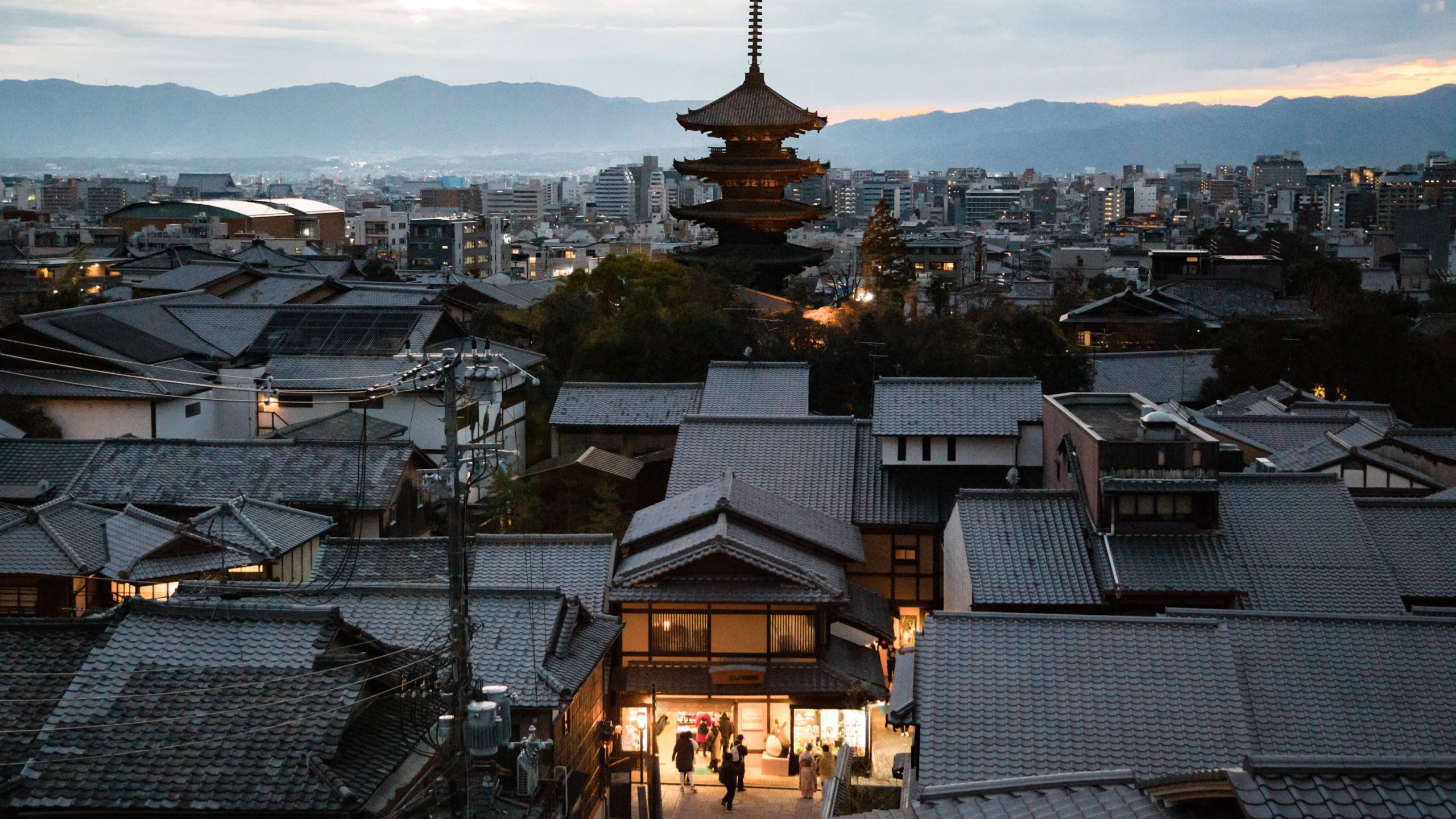 What is a machiya?
Machiya are traditional Japanese wooden townhouses that once served as both a place of residence and business. In the past, the area closest to the entrance (known as misenoma) was reserved for conducting business, whilst the rest of the machiya was divided into rooms where the family lived.
Where to stay in Kyoto with family and friends
Kyoto
is known
to be a compact city. Our streets
are built
in a grid-like fashion, so it is easy to navigate the city. Even so, deciding on what area to stay in during your holiday may become confusing. Should you stay near the main Kyoto Station? Or in downtown Kyoto, right in the center of the city? Both areas are great places to stay in.
However
, in this article, we're going to suggest the Higashiyama District (east side of Kyoto City).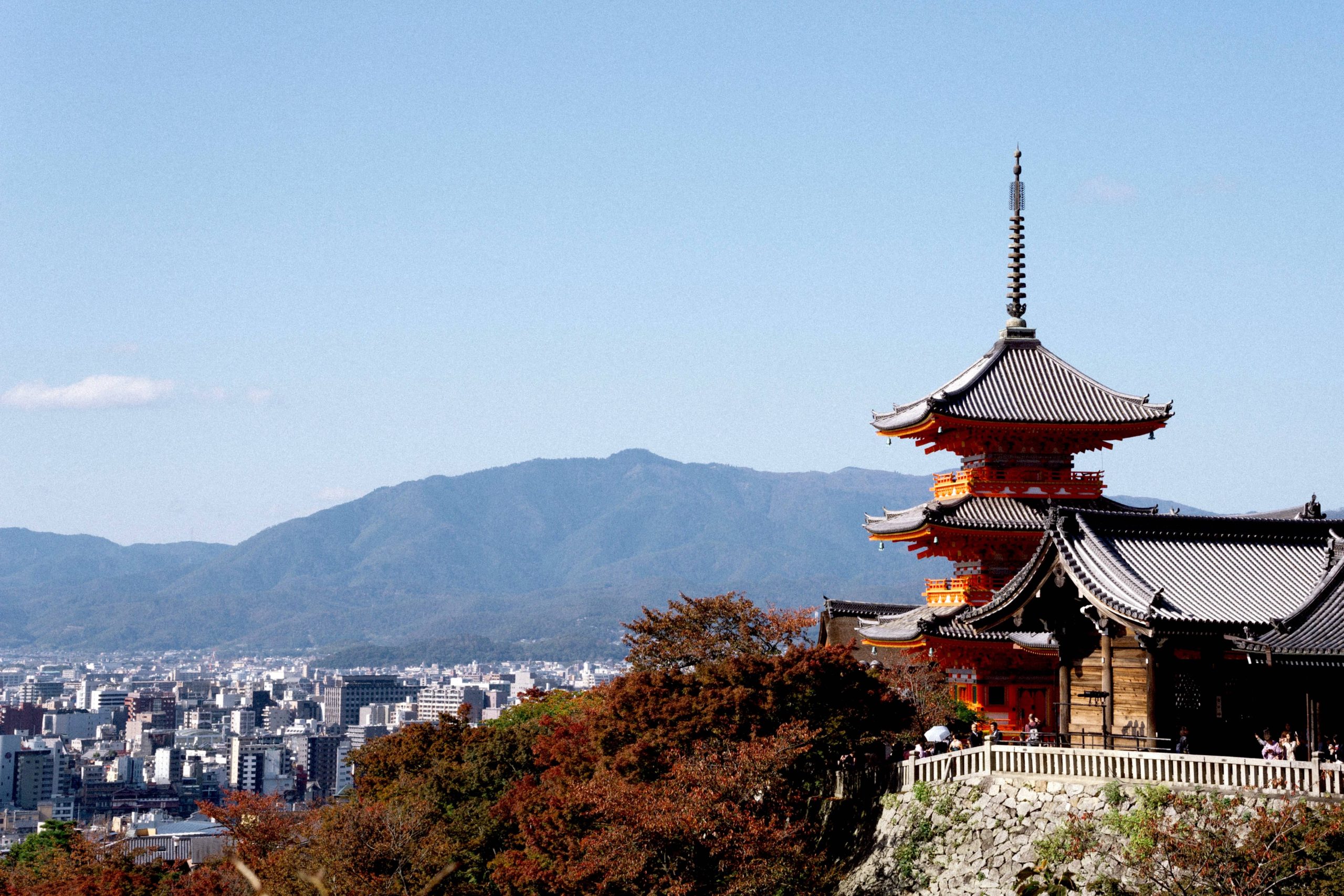 Higashiyama District – Historical area of Kyoto City
There are over 2,000 temples and shrines dotted throughout the city. And many of Kyoto's most famous and hidden temples are located in the Higashiyama District.
The Higashiyama District is a great place to stay as you'll also have access to the Keihan Subway Line, city bus lines, and be within walking distance to many temples and shrines
. If you wanted, you could also easily visit Osaka and Nara during your stay, as you could simply jump on the Keihan Line.
Within Kyoto, you'll be able to navigate the Gion district, bustling shopping and restaurant area of Kawaramachi, Silver Pavilion, red torii gates of Fushimi Inari Shrine, and more.
Below is "Yoitsubaki" – a private traditional Japanese house located in the Higashiyama District. If you're looking to experience a unique & authentic stay whilst in Kyoto, keep on reading!
'Yoitsubaki' machiya holiday house (vacation rental)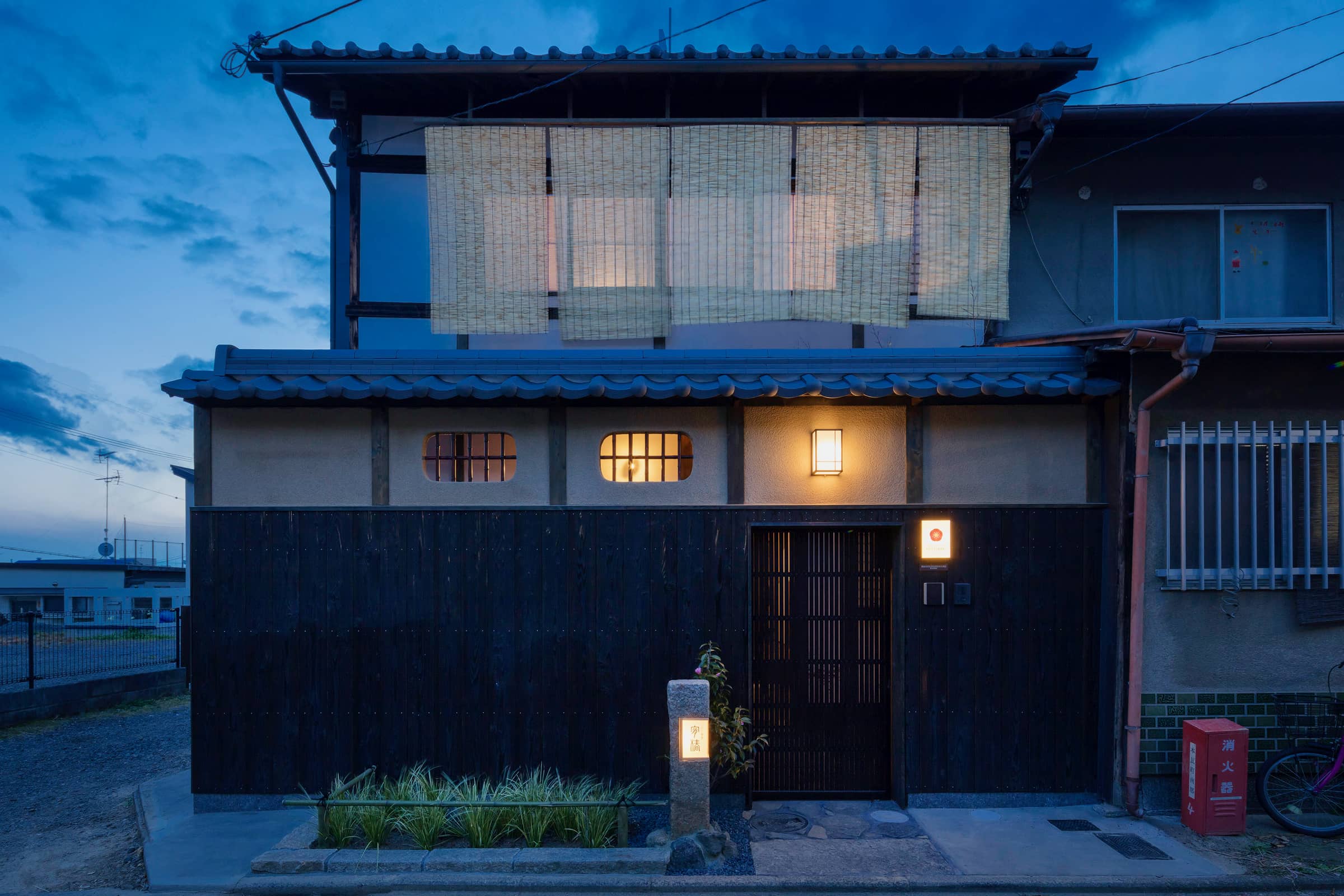 The Neighborhood:
This machiya house is in the southern area of the Higashiyama District.
A
leisurely
walk will take you to Tofukuji Temple, an ancient zen temple famous for its Japanese maple leaves
.
There are also 25 Tofukuji sub-temples in the neighboring area, hidden gems loved by locals
.
Jump on the Keihan train line to
easily
visit Kiyomizu Temple, Gion District, downtown Kyoto, Fushimi Inari Shrine, and more
.
The Machiya House: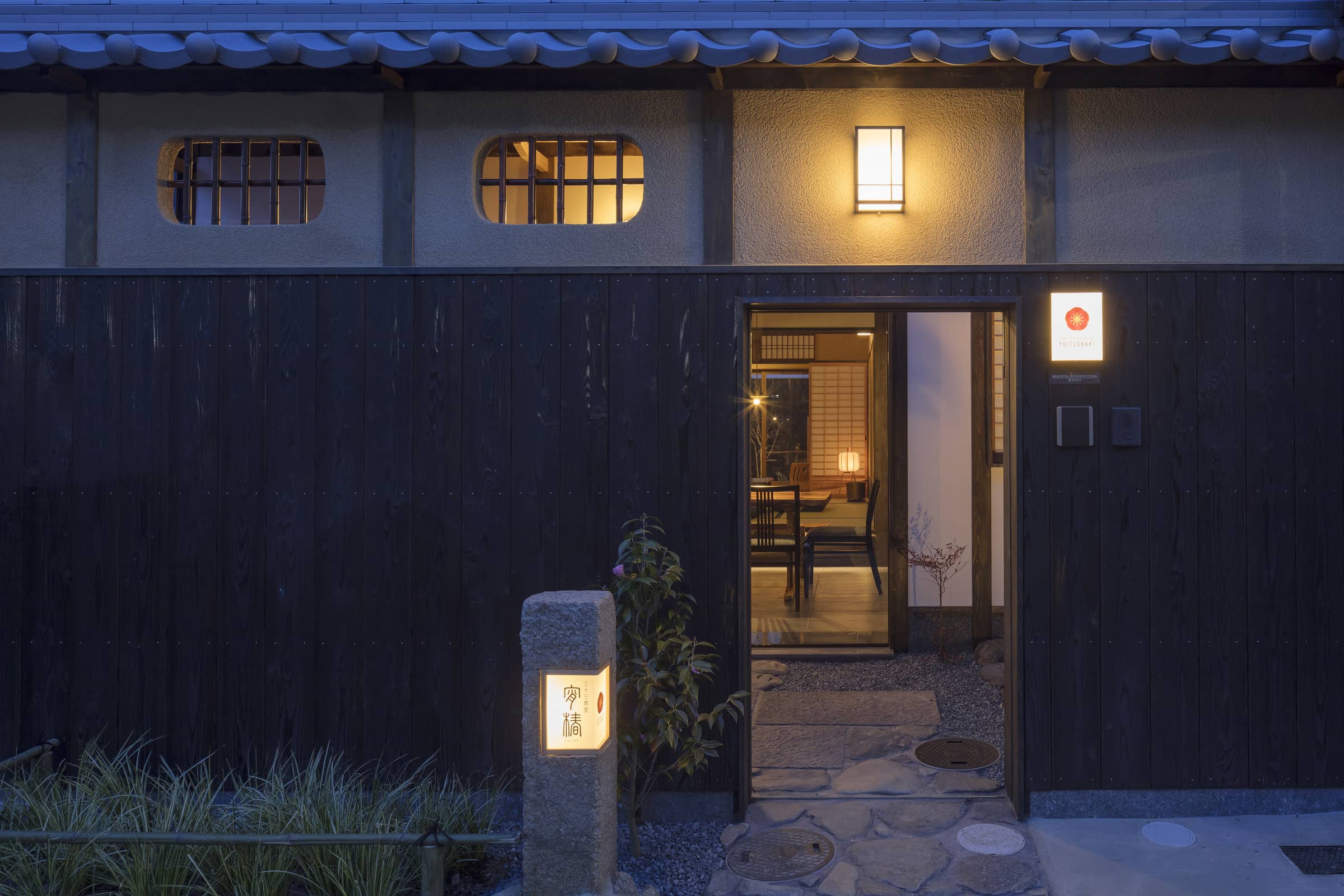 A spacious traditional Japanese house featuring a "daibei-zukuri" façade. "Daibei-zukuri" walls are not very common, as most machiya homes in Kyoto faced the roads, and had no front courtyards. This feature was built in machiya homes of wealthy merchants and doctors in Kyoto.
This machiya house can accommodate up to 8 guests, which means that it is perfect for family holidays, vacation with friends, or a couples retreat.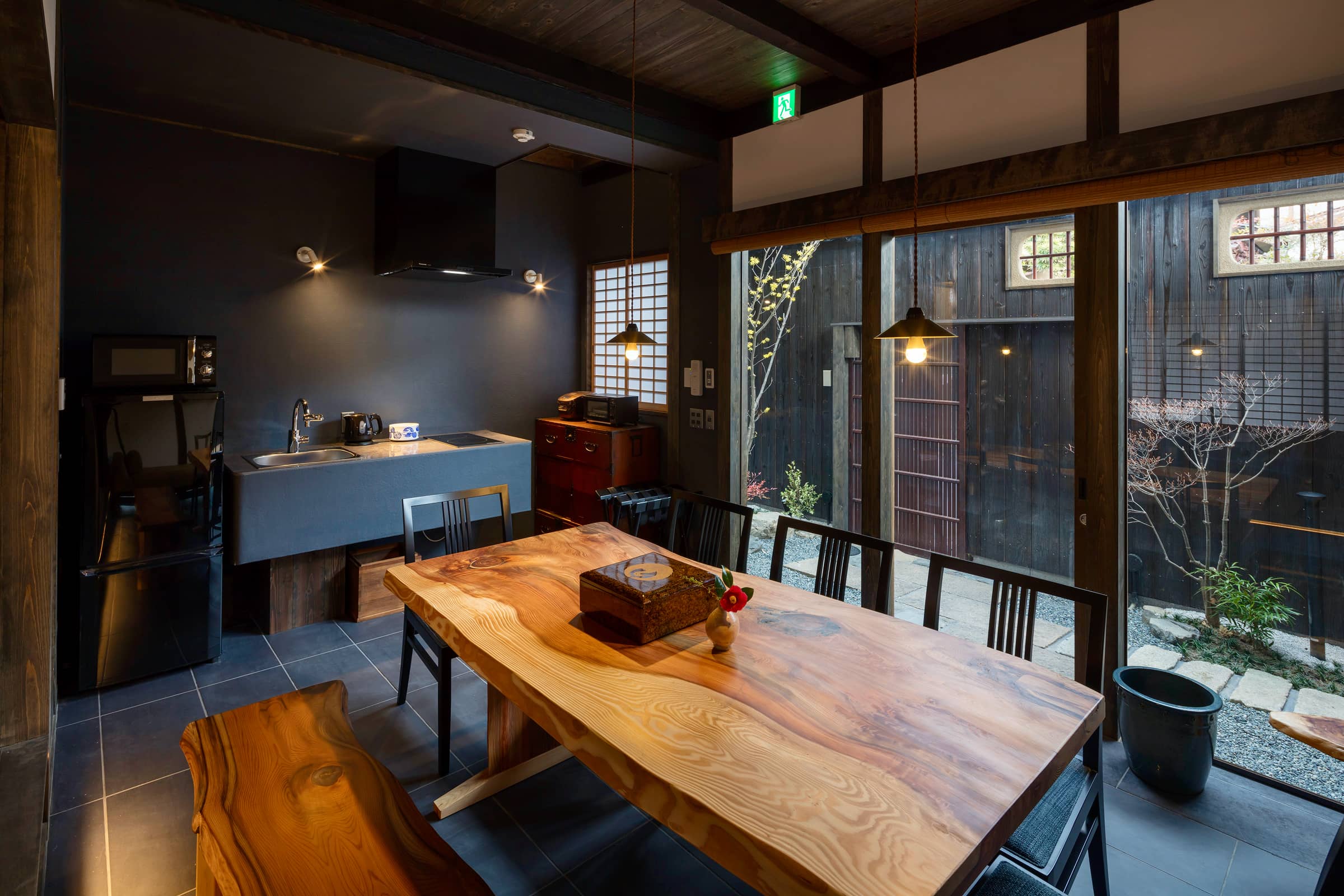 Slide open the entrance door to find floor to ceiling glass windows. This bright and airy space includes a large, wooden dining table, modern kitchen, and a view of 2 inner gardens. Buy groceries from the local market and prepare meals, or pick up some local specialties to enjoy after a day of exploring the city.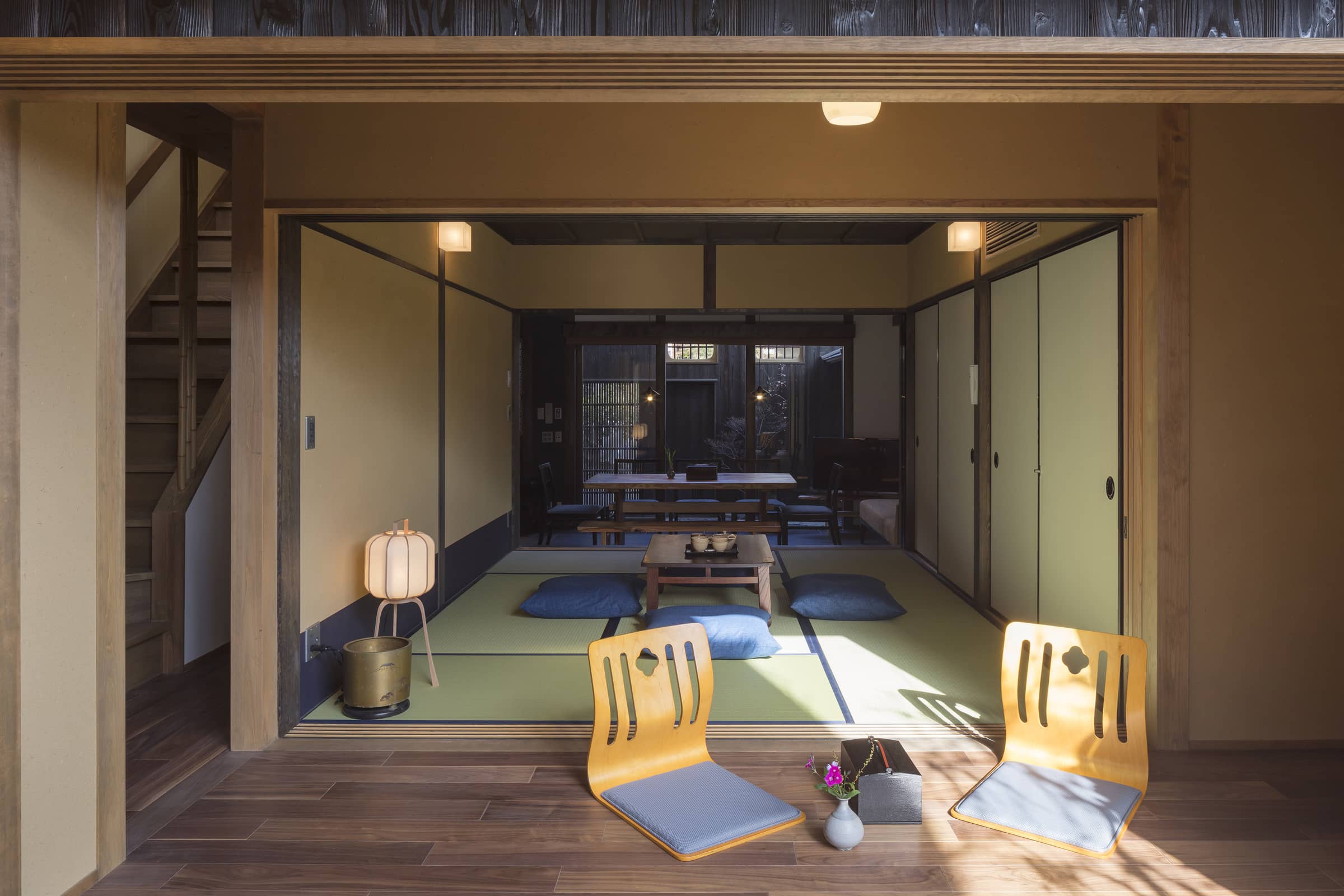 The classic Japanese room can be converted into an additional bedroom when stay with larger groups of family and friends. This tatami-lined room has fusuma sliding doors, they'll act as a partition for when you want to create a completely private space.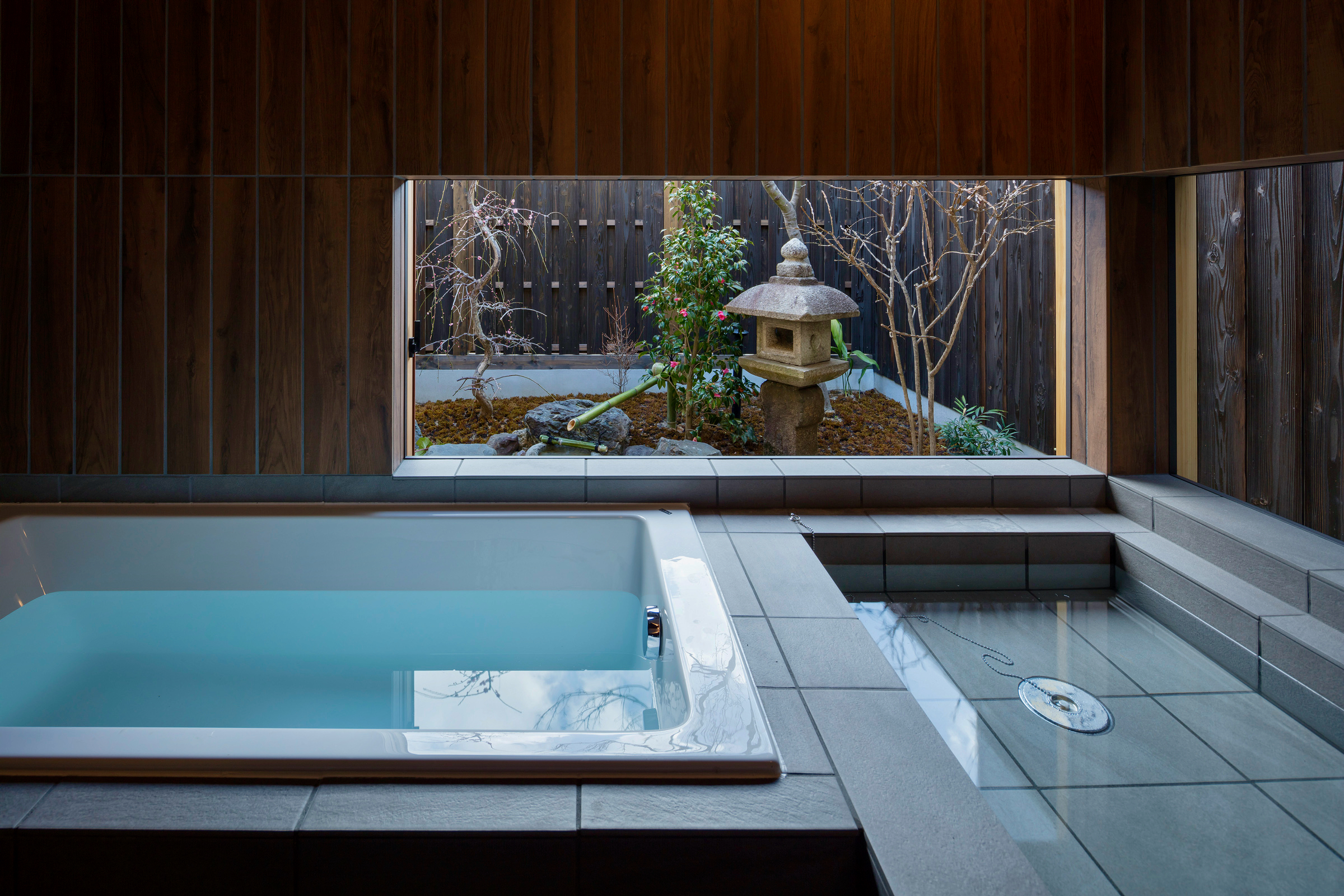 A luxurious bathroom is located on the ground floor. In addition to a regular bathtub, there is also a neyu (sleeping bath). You'll often find these neyu baths at onsen facilities, so it's a rare experience to have one in a machiya house. It is basically a hot spring bath that you can take while sleeping! It's shallow enough so you can lie down comfortably. The hot water flows over your entire body and allowing you to sleep.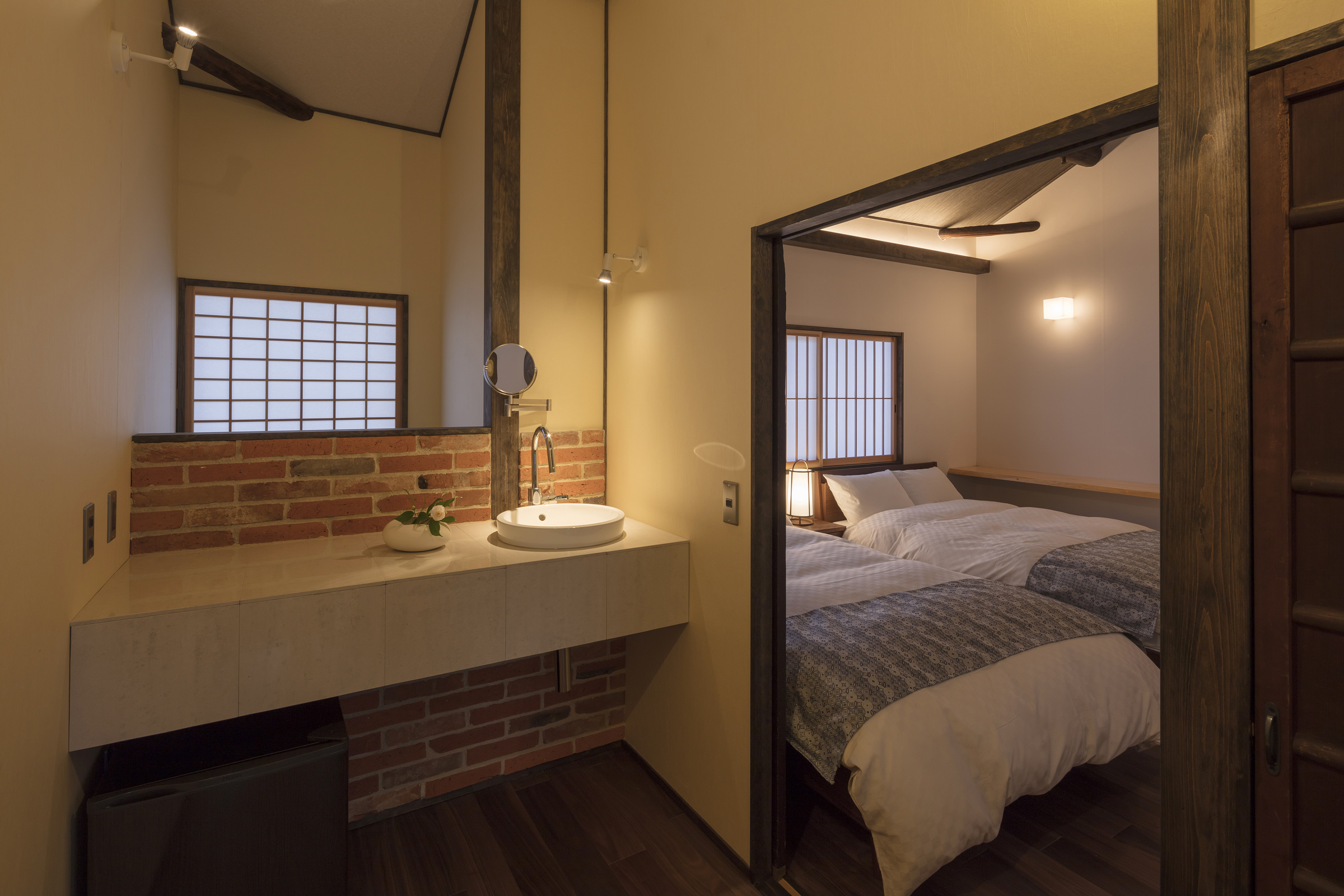 Head towards the second floor, where you'll find 2 bedrooms (Western-style bedroom, and Japanese-style bedroom). An inviting room with high ceilings, soft lighting and shoji paper windows welcome you to a deep sleep. If you prefer to sleep on a futon bedding, rest beautifully in the traditional Japanese room lined with tatami flooring. The room is bathed in soft light from paper lanterns, and delicate red details add warmth to the space. There is a countertop and washbasin perfect for getting ready or winding down.
Machiya Facilities & Amenities
Floor Heating
Free WiFi
Renovated Kitchen (fully equipped with modern kitchen appliances, tableware, Induction stovetop, and more)
Washing Machine
Bathroom Amenities (Shampoo, Conditioner, Body Soap, Toothbrush, Razor, etc.)
Towels, Bed Linen
Coffee, Tea
Traditional Japanese House Floor Plan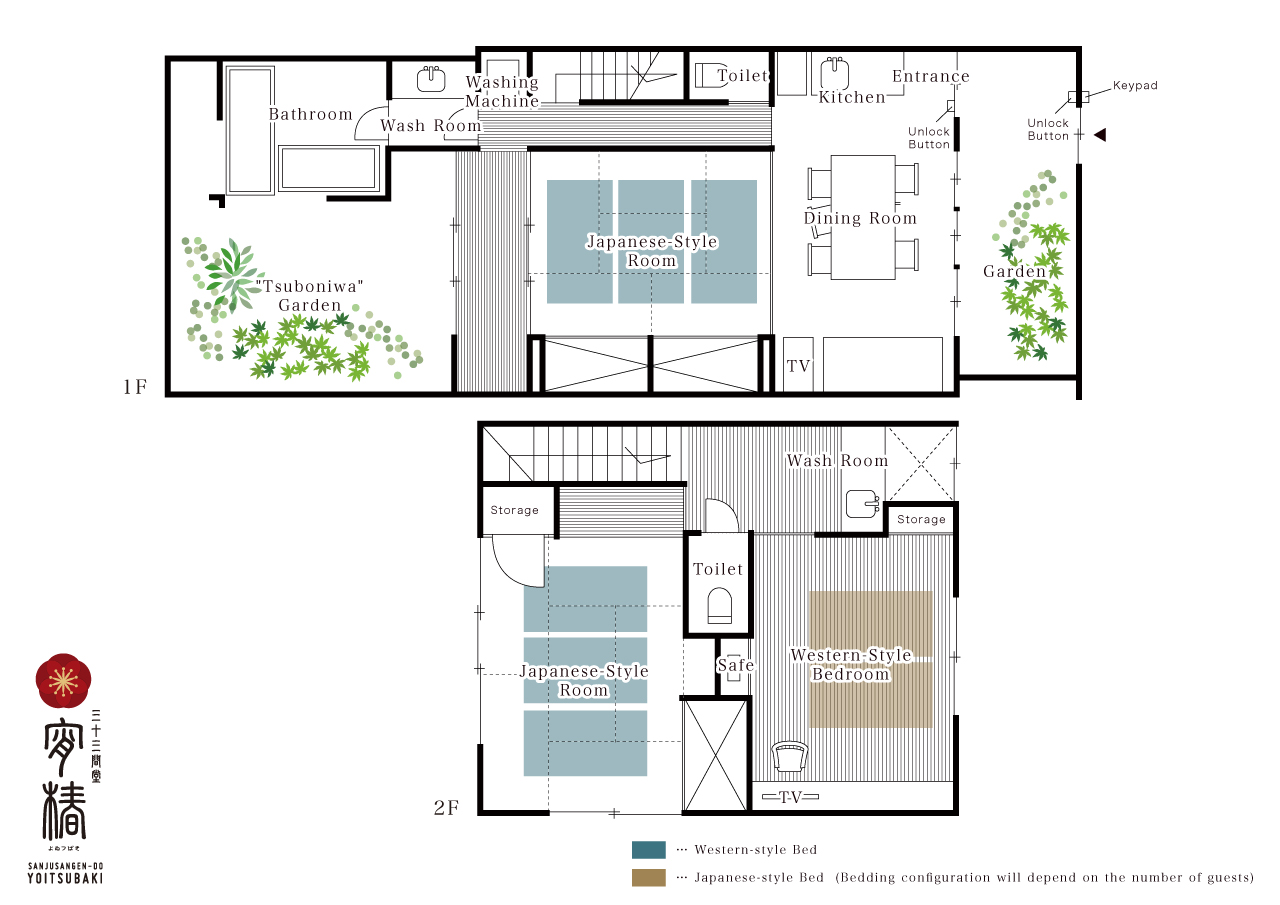 Machiya Information
Machiya Name: 'Yoitsubaki' – MACHIYA RESIDENCE INN Kyoto
Website: https://www.kyoto-machiya-inn.com/accommodations/yoitsubaki/
Address: 656-13 Honkawaracho, Higashiyama-ku, Kyoto, 605-0963, Japan
MACHIYA RESIDENCE INN Kyoto
If you'd like to browse through more traditional Japanese houses for you to rent during your stay in Kyoto, Japan, take a look at our official website. Our machiya homes are perfect if you are traveling to Japan on a family holiday, a couples getaway, vacation with friends, and more.