As Kyoto locals, we know all the best things to do and see in Kyoto. From hidden gems to must-see sites for first time visitors.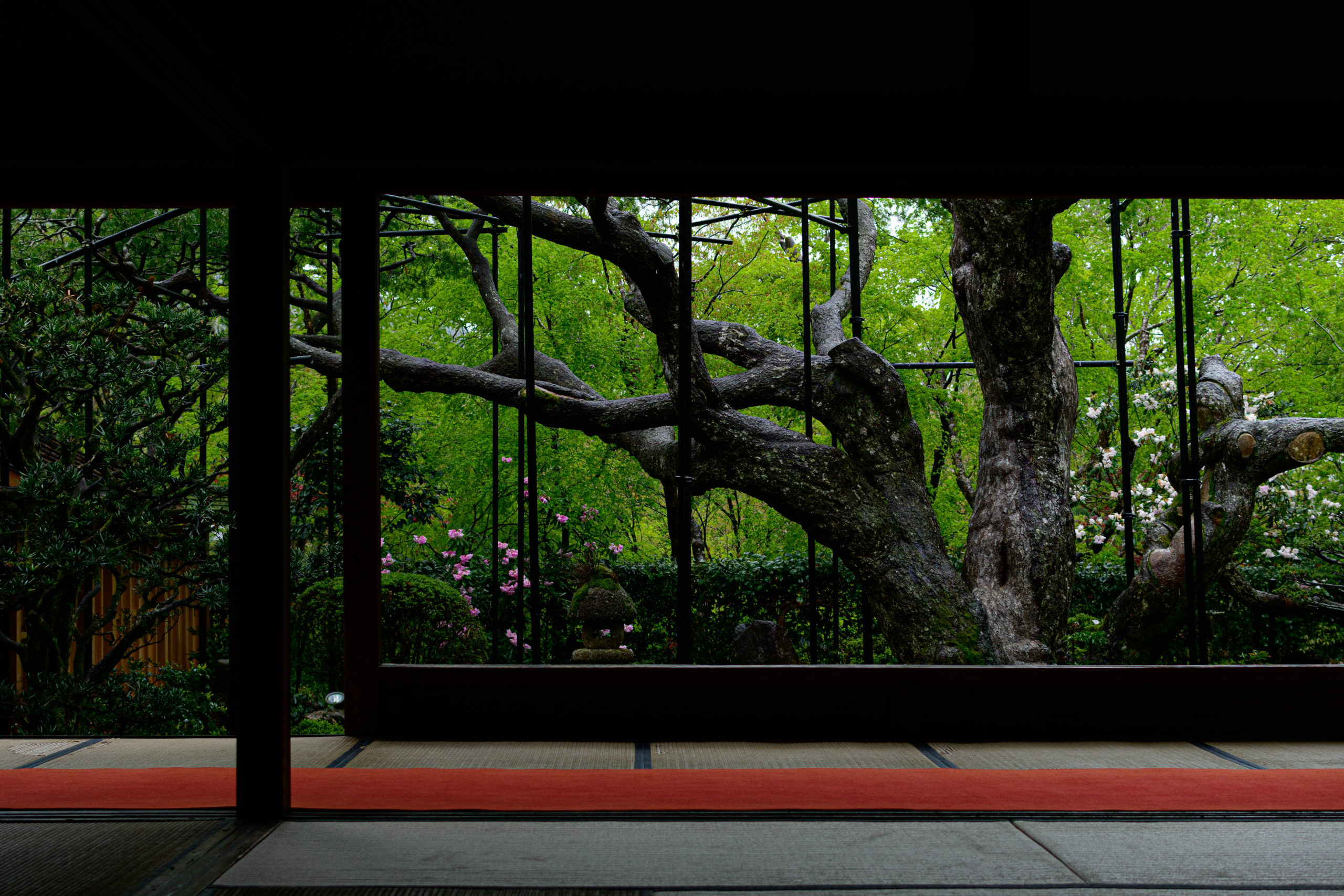 With so many amazing things to do and see, it's hard to know where to start. That's why in addition to our own suggestions, we've asked other Kyoto locals and narrowed it down into a "Top 10 Best Things to do in Kyoto City" list for your next Kyoto trip.
So if you're wondering what to do in Kyoto during your next trip, find out down below:
Must-See for First Time Visitors

(#1~#4) – Kyoto Travel Guide
1) Fushimi Inari Shrine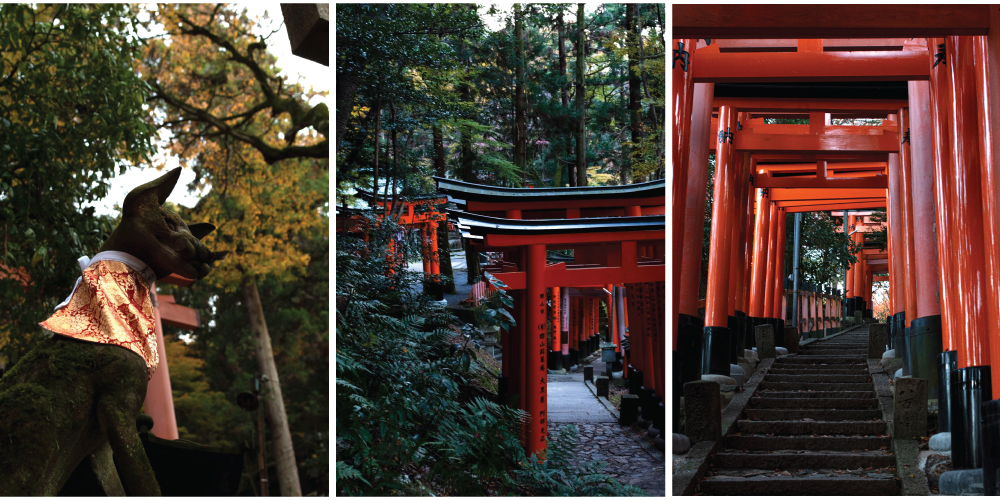 Fushimi Inari Shrine has a history of over 1,300 years.
Why are there so many vermillion
torii
gates? Since the Edo Period, there has been a custom of dedicating
torii
gates to deities. It is a way of saying "thank you" to a prayer fulfilled, or to ask for a prayer to be fulfilled.
Our 'Kyoto Local Tip':
Head early in the morning to avoid the crowds, and enjoy a quiet and tranquil atmosphere. You'll see tourists taking photos at the main entrance of the torii tunnel, but go ahead and walk past them. You'll find plenty of picturesque areas to take photos of the iconic torii gates.
We love hiking for 1~2 hours throughout Inari Mountain. We suggest hiking to the 2nd or 3rd peak. 
If you have the time, be sure to veer towards the Araki Jinja Shrine as you descend. You'll be able to see 'secret' bamboo torii gates.
What to do in Kyoto: Visit Fushimi Inari Shrine (South of Kyoto Station)
When to go: Early morning, between 6AM~9AM to avoid the crowds
---
2) Kiyomizu Temple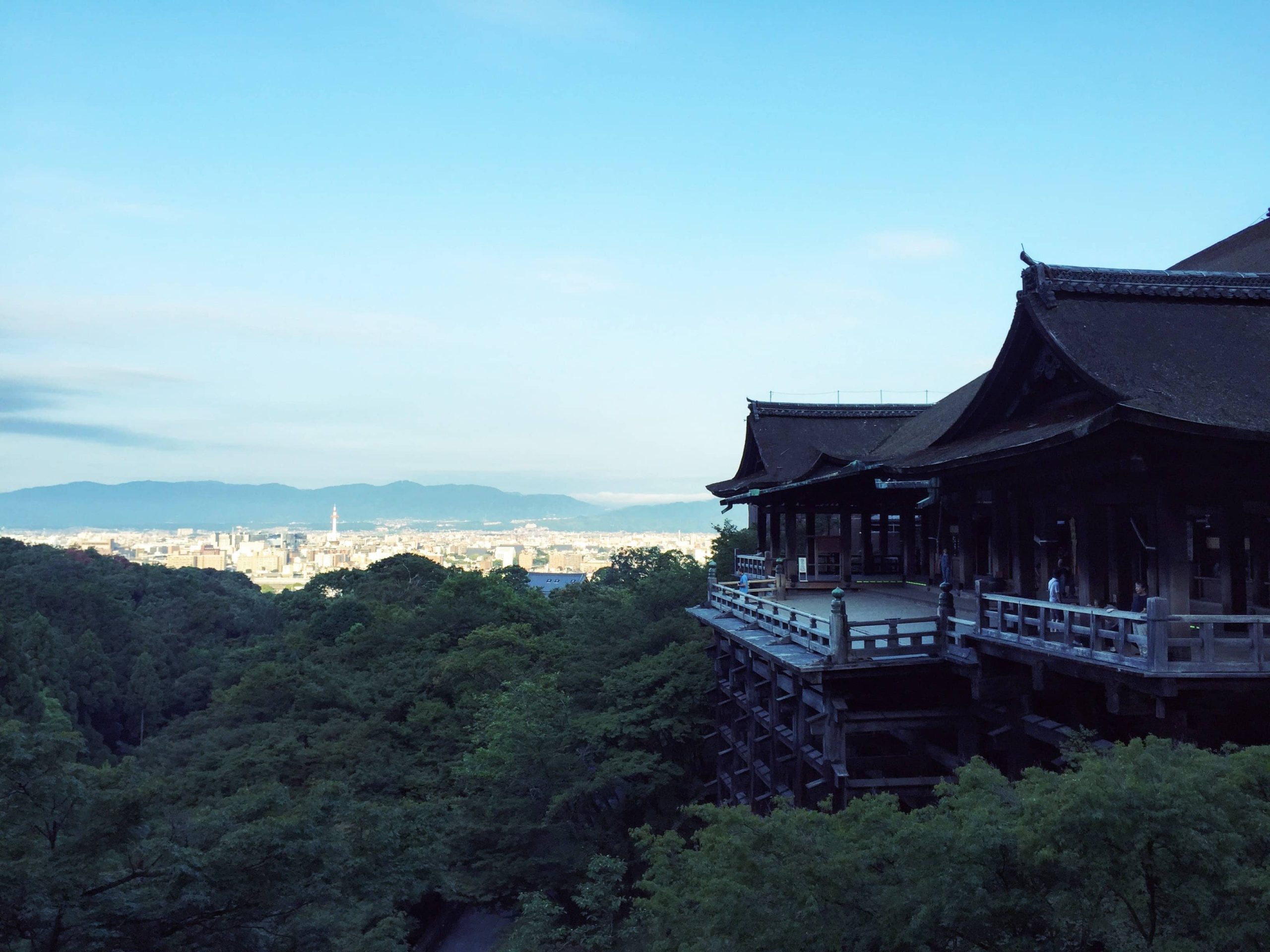 As you walk up the steps towards Kiyomizu Temple, you'll first see the Niomon gate. Translated literally, it reads as 'Blindfold Gate'. However, this gate is not meant to block or "blindfold" your view of the temple. Rather, when standing on the main hall, it is meant to draw your gaze to the gate so that you are not "looking down" on the Imperial Palace.
The main hall is famous for its 'Kiyomizu Stage' (kiyomizu no butai). Fun fact: Not only does this stage stand at 13 meters tall, it uses 139 pieces of wood without a single nail. This is because it uses the 'Kakezukuri' method – a structure built into a steep cliff with many crossbars.
Another shrine perfect for early risers. Kiyomizu Temple opens its doors from 6AM, so get there early. If possible, we also recommend watching the sun set while overlooking the city. 
What to do in Kyoto: Visit Kiyomizu Temple (Higashiyama Area)
When To Go:
Avoid the area surrounding Kiyomizu Temple between 10AM~4PM, as it will get crowded.
---
3) Gion District & Hanamikoji Street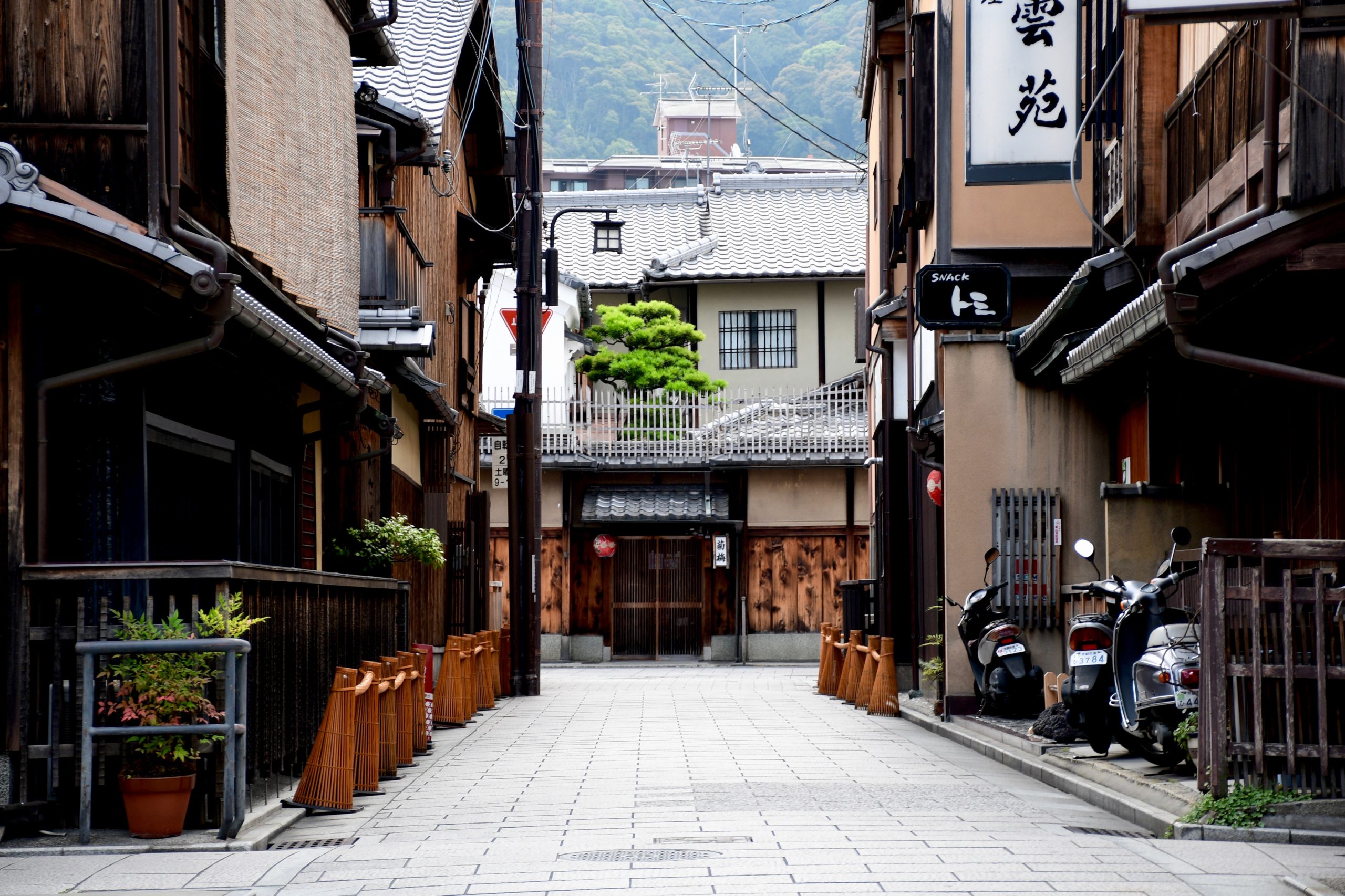 Gion is the largest of five hanamachi (flower districts) of Kyoto, areas where geiko women & maiko girls (geisha) live and work. During the late Edo Period, it is said that there were more than 1000 teahouses, and 500 maiko and geisha working in the area!
If you are able to spend a good amount of time in the area, be sure to visit not only the main "Hanamikoji Street", but also the following: Yasaka Shrine, Gion Shirakawa Area, and Kenninji Temple. If you are lucky enough to visit during the cherry blossom season or summer festivities, you'll want to stop by Maruyama Park, too!
Our 'Kyoto Local Tip':
Don't miss out on the Furukawa Shotengai (arcade street lined with local restaurants & shops), Shirakawa River and its weeping willow trees, and Yasui Konpira-gu Shrine, which is just north of Yasaka Shrine.

If you want to fully understand the history behind this historical district, why not take a private morning walking tour with a local guide? Learn about the traditional rituals locals take part in when visiting shrines and temples, walk through hidden alleys and side streets, and more.
What to do in Kyoto: Visit the Gion Area & Participate in a Gion Walking Tour (Higashiyama Area)
When To Go:
Early morning if you want to enjoy a tranquil Gion: 6AM~9AM. If you want to see the hustle & bustle of a busy Gion, and browse around shops and restaurants: 10AM ~ 
---
4) Arashiyama (Bamboo Forest)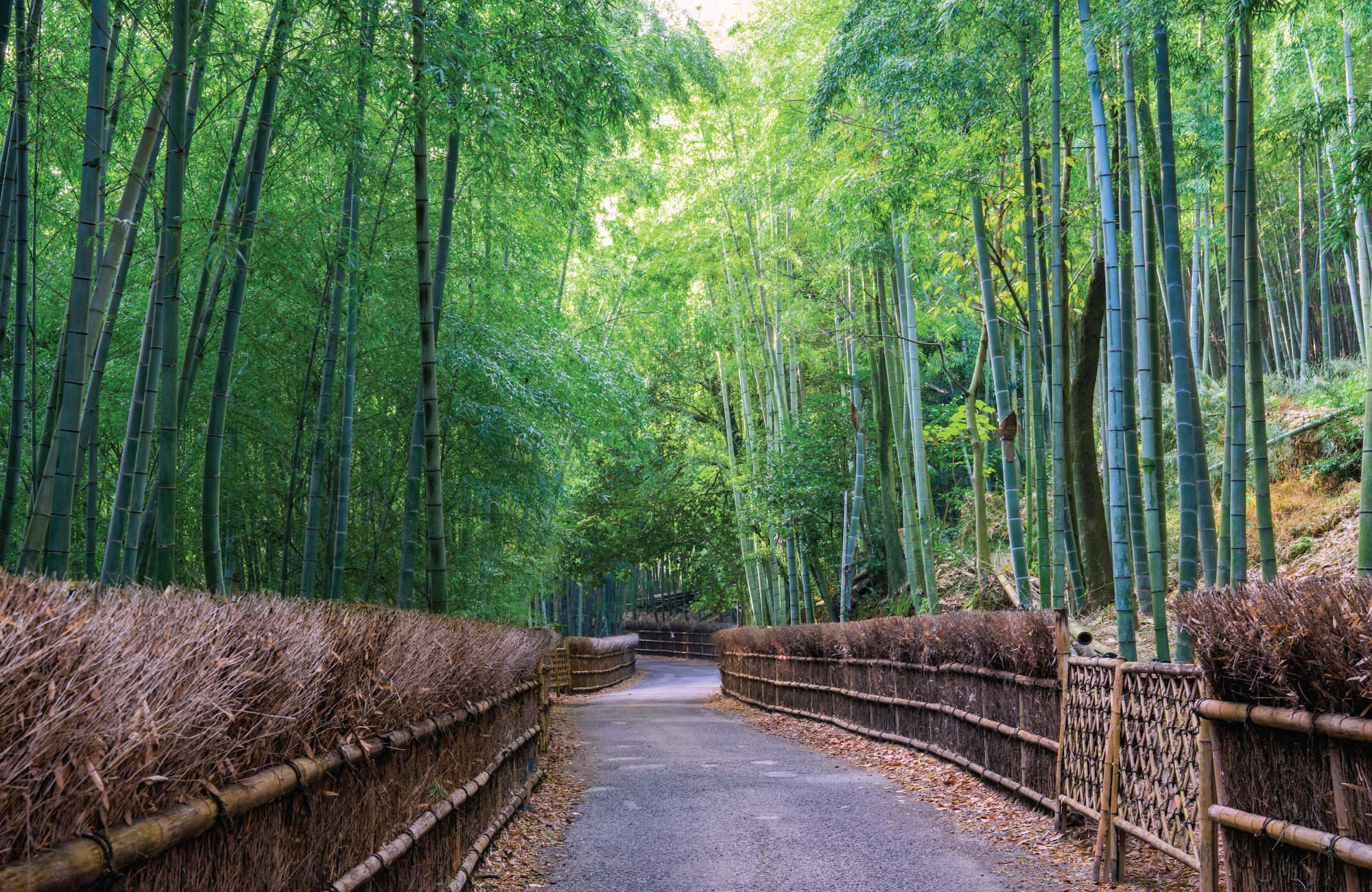 Located on the western side of Kyoto city is Arashiyama. It is famous for its bamboo forests, the Togetsukyo Bridge stretching over the Katsura river, and cherry blossom & fall foliage views.
Once you've visited the Bamboo Forest and stopped by the famous Tenryuji Temple, don't stop there! Keep walking north towards Gio-ji Temple. A short 15-min. walk from the main bamboo forest area, you'll be treated to a beautiful and tranquil moss garden at Gio-ji Temple, with very few visitors.
Our 'Kyoto Local Tip':
Ride the 'Randen' tram. A nostalgic (and last running) street tram of Kyoto, you'll be treated to scenic views of the local neighborhoods. As it doesn't connect directly to Kyoto Station or any subway station, you may not have considered adding it to your list of  'to-dos', but we recommend adding it to your list! You can jump on at Arashiyama Station.

What to do in Kyoto: Visit Arashiyama & Take the Randen Tram (Western Area)
When To Go: Early morning to avoid the crowds. Gio-ji Temple is fairly quiet any time of the day.
---
Local Favorites & Hidden Gems

(#5~#10)
5
) Hosen-in Temple (Ohara, Kyoto)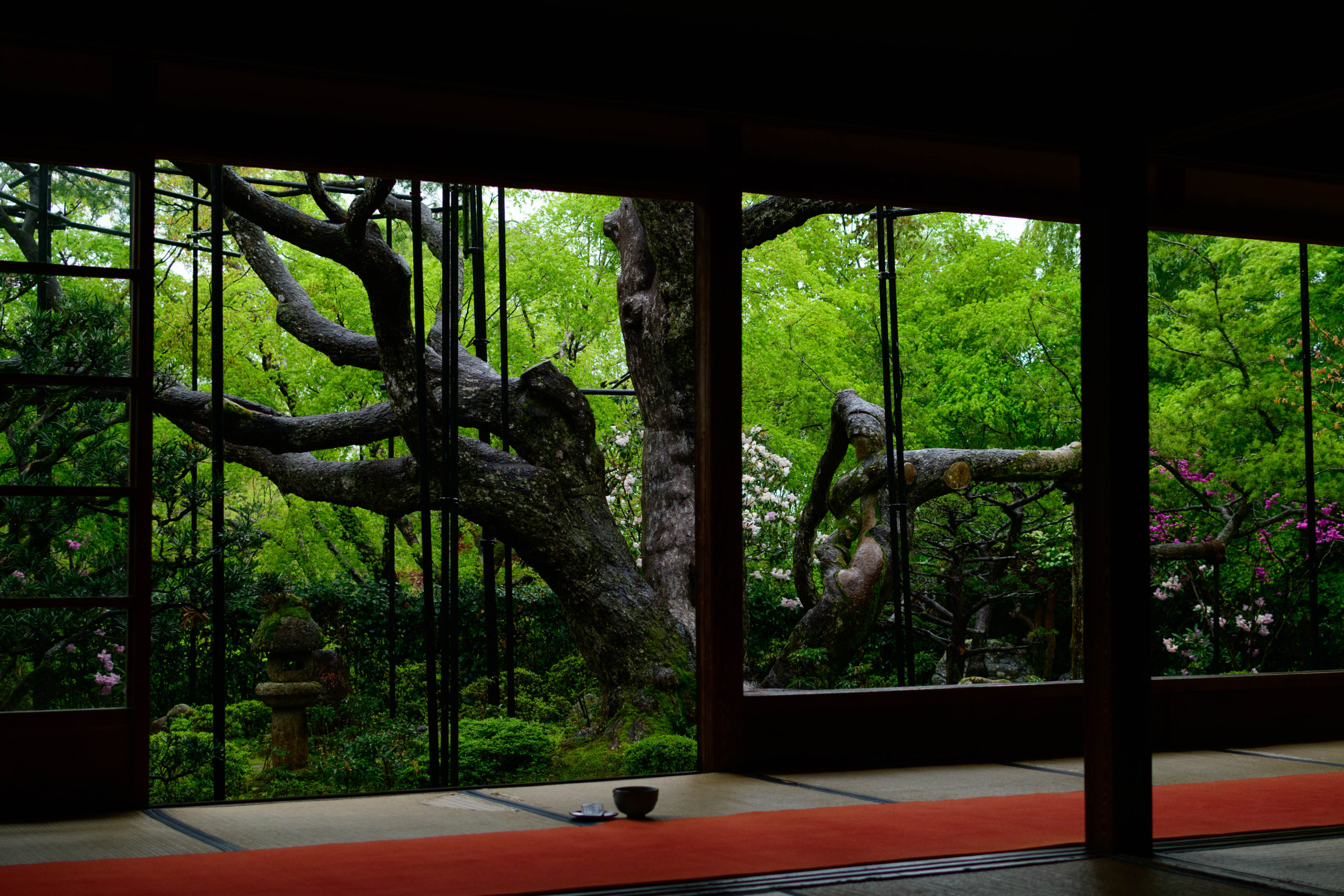 Escape the hustle and bustle of city life, and head towards the idyllic mountain village of Ohara, Kyoto. In addition to having picturesque views of nature, Ohara has amazing places to eat, traditional folk houses, and beautiful temples. Among all of the great places to explore in the area, Hosen-in Temple has always been our favorite place to retreat to.
Featuring 3 gardens, the largest of these gardens was designed in the "Gakubuchi-teien"-style (picture frame style). The wooden pillars in the main hall act as "frames" when looking out into the garden. The admission fee includes authentic matcha tea and a Japanese sweet. We could spend hours sitting on the tatami floors admiring the garden and 800-year-old tree.

Our 'Kyoto Local Tip':
On occasion, Hosen-in Temple holds seasonal light-up events, transforming the garden views dramatically. Although we do not attend special light up events often, Hosen-in Temple is the exception. If you are lucky enough to be in Kyoto when they hold these events, make an effort to attend!
What to do in Kyoto: Visit Hosen-in Temple (Ohara, Kyoto)
When To Go: Any time of the day, as it is rarely busy
---
6
)
Shosei-en Garden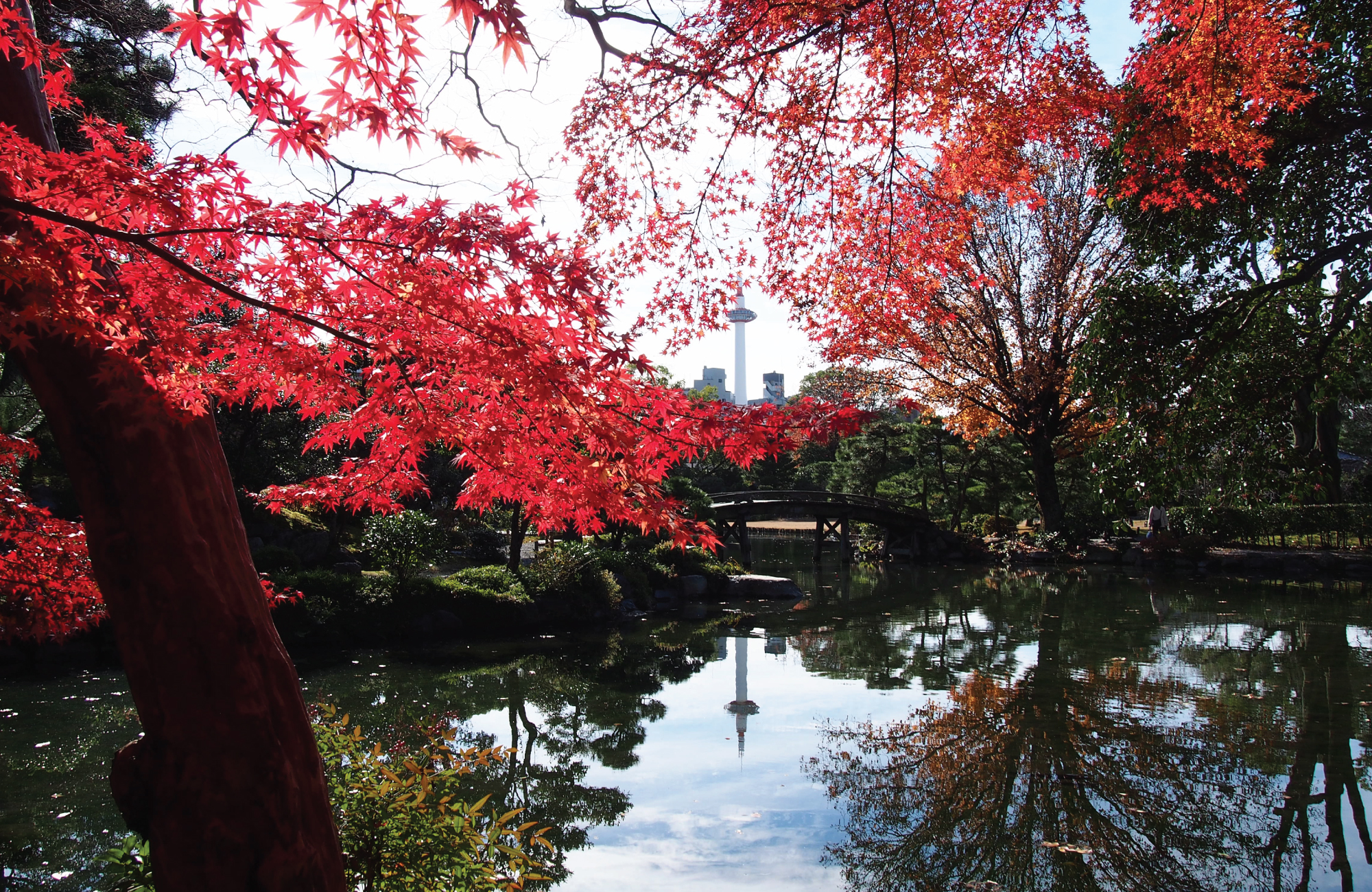 A less than 10-minute walk from Kyoto Station is the picturesque Shosei-en Garden. Originally built as a detached villa of Higashi Honganji Temple, Shosei-en Garden is said to encapsulate the strolling garden-style of Edo Period Japan. From the northeastern side of the park, you can see the Kyoto Tower peeking through the trees. The perfect place to visit all year around, this garden beautifully showcases the city's changing seasons: plum & cherry blossoms in the spring, irises and water lilies in the summer, vibrant fall foliage in the autumn, and snowy scenes in winter.
Our 'Kyoto Local Tip':
As this garden is close to Kyoto Station, stop by before you check-in to your accommodation, or right before you plan on departing Kyoto for your next destination.

What to do in Kyoto: Visit Shosei-en Garden (Near Kyoto Station)
When To Go: Any time of the day during its opening hours.
---
7
) 
Honen-in Temple (Philosopher's Path)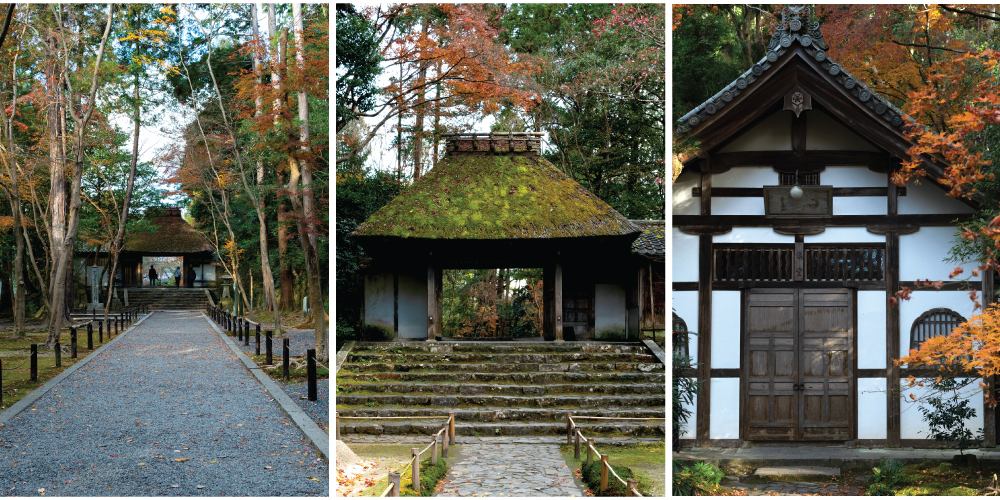 If you plan on visiting the Ginkakuji Temple (Silver Temple) and Philosopher's Path, plan on making a slight detour to see this temple (open from 6AM). The exact date of when Honen-in Temple was built is a mystery, but it is said to be around early Kamakura Period  (1185–1333). The distinctive thatched roof of the entrance gate and ceremonial sand mounds (known as Byakusadan) are sure to be a highlight of your trip.
Our 'Kyoto Local Tip':
Even during the usually busy fall foliage season, you can escape the crowds to enjoy colorful autumnal leaves here. The red and orange of the maple leaves contrast against the vibrant green foliage to create unforgettable views.
What to do in Kyoto: Visit Honen-in Temple (Near the Philosopher's Path)
When To Go: Any time of the day during opening hours, as it is fairly quiet.
---
8
) Funda-in Temple (Sub-temple of Tofukuji Temple)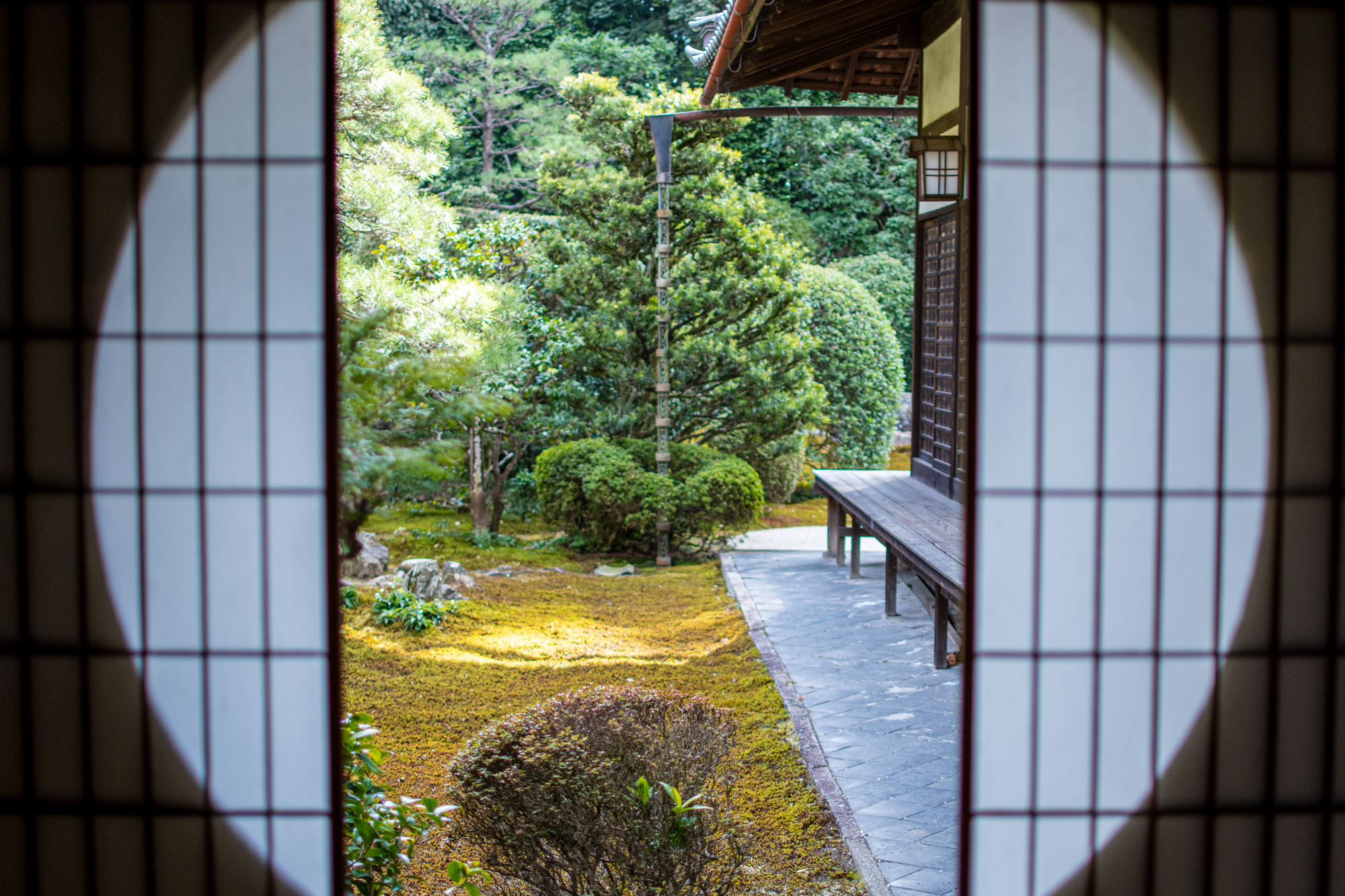 Just south of Kyoto Station is Tofukuji Temple, which is well known for its colorful fall foliage leaves, and zen gardens designed by famed landscape designer, Mirei Shigemori. But did you know that there are 24 sub-temples of Tofukuji Temple in the surrounding area? Although most are closed to the public, there are a few gems that we absolutely love.
Funda-in Temple is a small and tranquil temple just a short walk from Tofukuji Temple. Built during the Kamakura period (1321-24), it features one of the oldest zen rock gardens in Kyoto, with the rocks representing cranes and turtles. There is even a legend that the turtle stones move every night!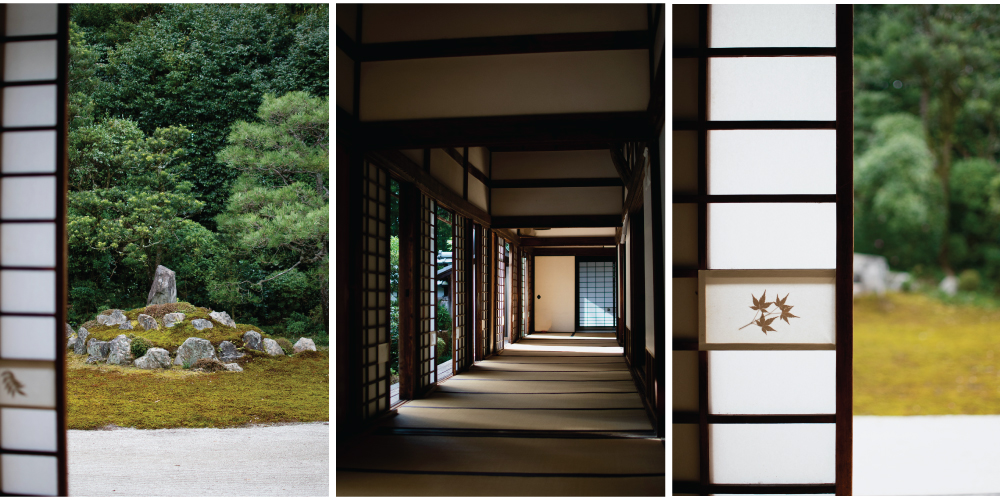 Our 'Kyoto Local Tip':
If you'd like to spend a tranquil afternoon simply looking out into a garden, Funda-in Temple is where you should head. Don't forget to admire the shoji, which feature pressed maple leaves and foliage embedded into the doors.
What to do in Kyoto: Visit Funda-in Temple (South of Kyoto Station)
When To Go: Any time of the day during opening hours.
---
9
) Komyo-in Temple

(Sub-temple of Tofukuji Temple)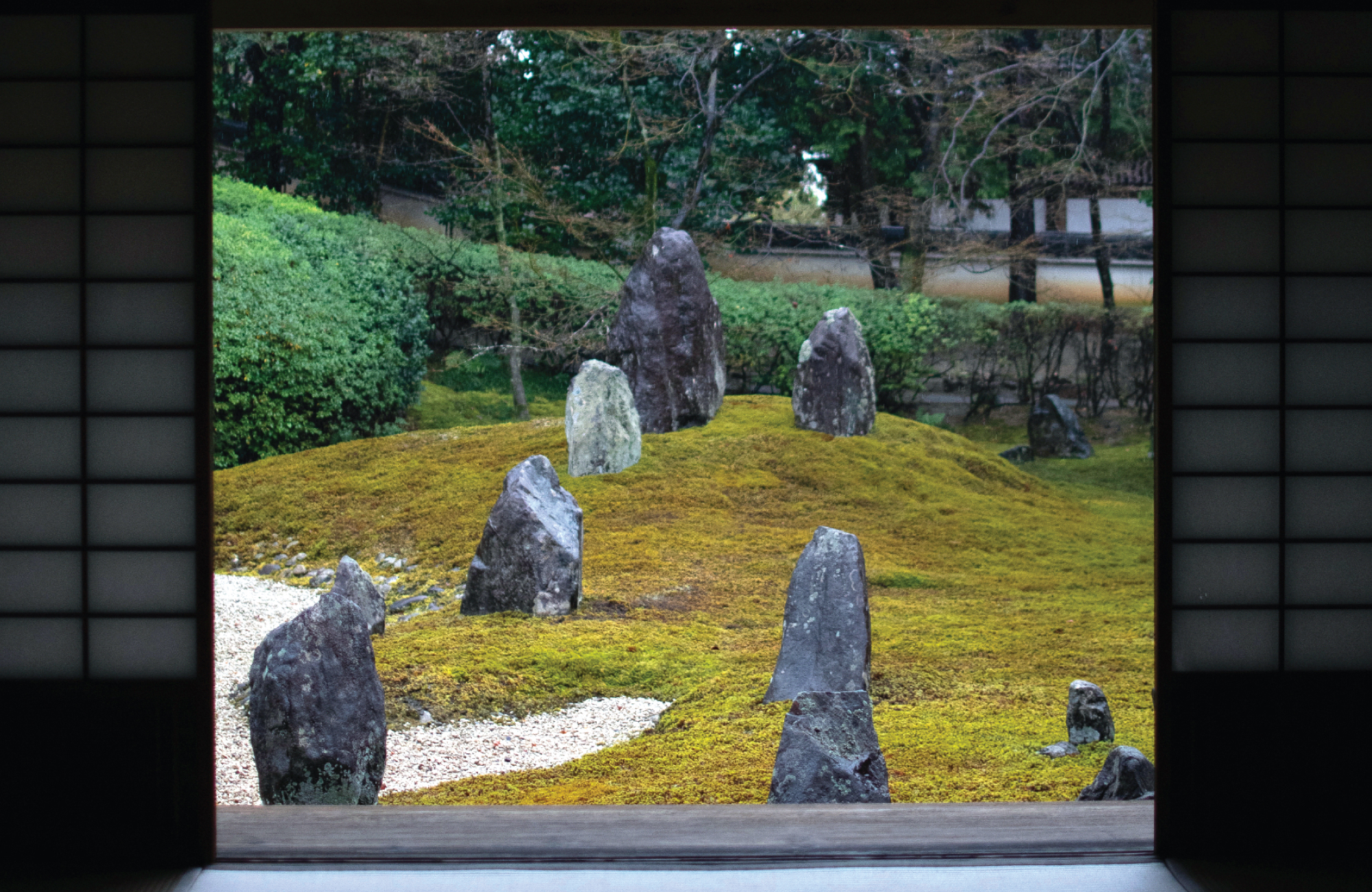 Another sub-temple of Tofukuji Temple that we love visiting over and over again is Komyo-in Temple. It is nicknamed as the "Rainbow Moss Garden", as the spring season features pink cherry blossoms, vibrant green in the summer, red and orange maple leaves in the autumn, and snow covered moss in the winter.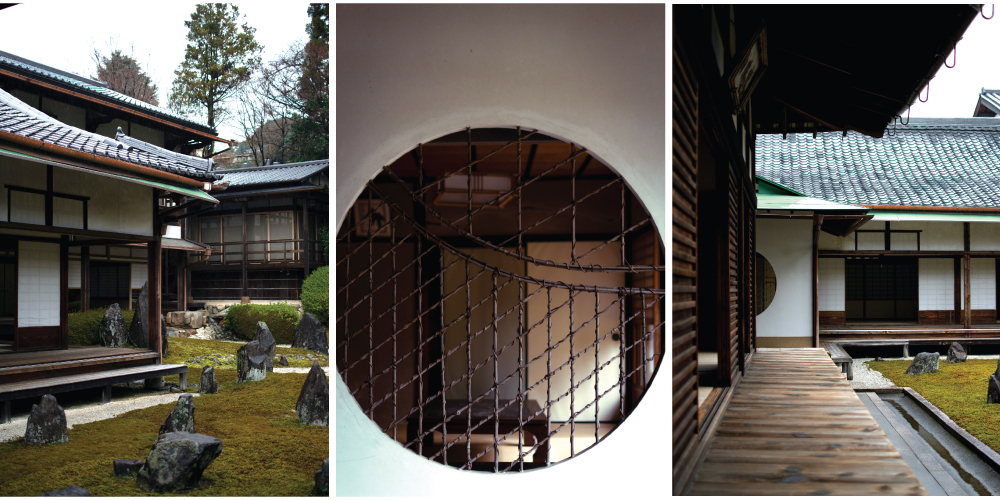 Our 'Kyoto Local Tip':
You won't find an attendant waiting to welcome you in at the entrance, but don't be afraid to walk right in. *You will need to deposit the admission fee in the bamboo box to your left. It is a fairly spacious temple, so be sure to take your time and admire the garden from all different rooms and windows of Komyo-in Temple.
What to do in Kyoto: Visit Komyo-in Temple (South of Kyoto Station)
When To Go: Any time of the day during opening hours.
---
10
) Toji-in Temple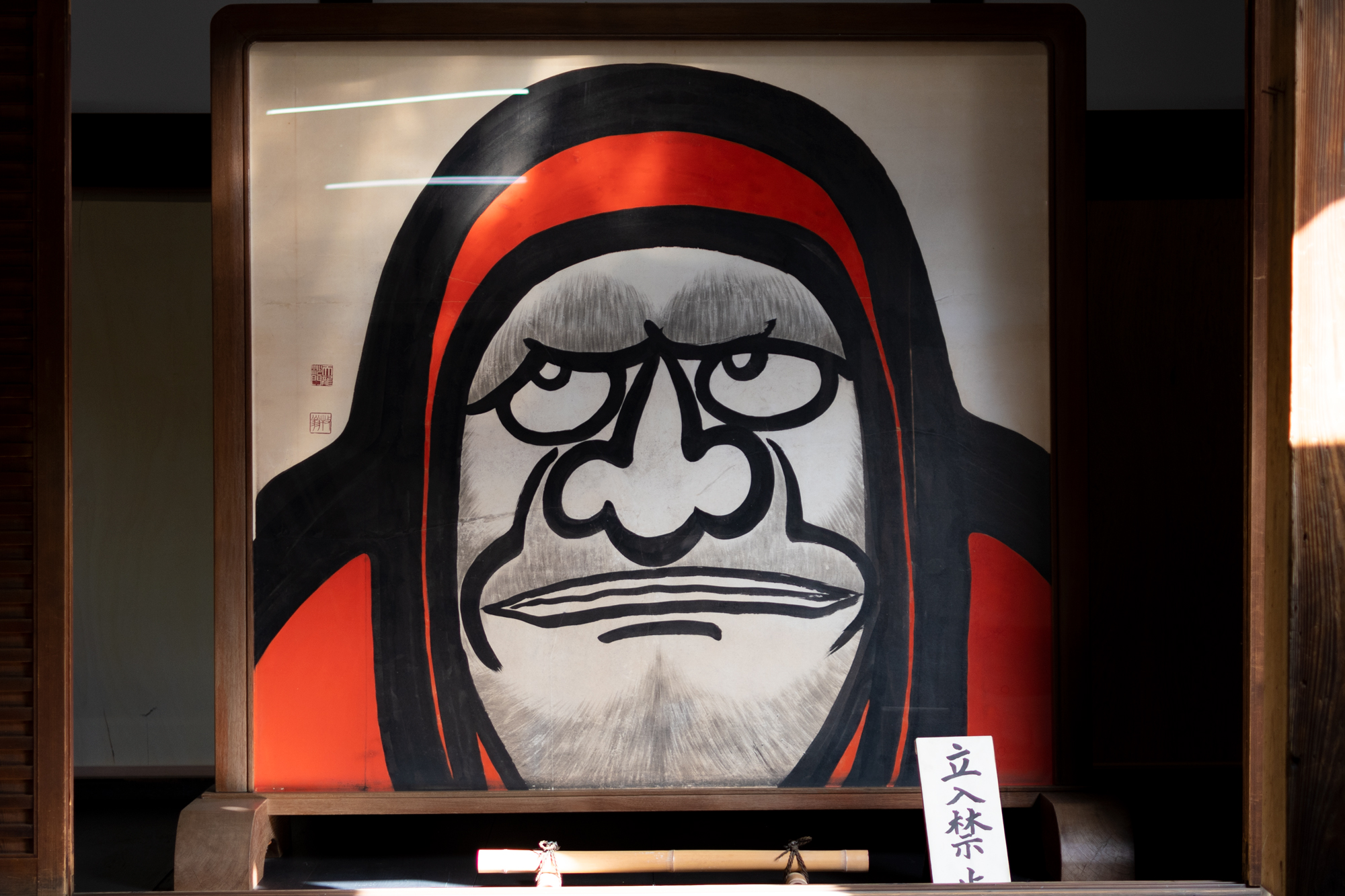 Toji-in Temple is well-known for the striking, red-hooded Bodhidharma painting near the entrance, and its impressive gardens. This temple not only features a zen rock garden, but a large garden through which you can take a leisurely stroll. We love visiting throughout the year to admire the various seasonal flowers. In early spring, the garden features fallen camellia flowers on moss – a scene that we especially love.

Our 'Kyoto Local Tip':
Toji-in Temple offers a traditional Japanese sweet, "Fuyo no Tsuki" for 500 yen. It is a sweet treat only offered at Toji-in Temple, and is said to be inspired by the large pond featured in the garden. Together with a bowl of authentic matcha tea, we recommend sitting on the tatami and enjoying a tranquil rest at this temple.
What to do in Kyoto: Visit Toji-in Temple (Western Area of Kyoto)
When To Go: Any time of the day during opening hours, as it is fairly quiet all year around.
---
If you still what to find out more about what to do in Kyoto, stay tuned!
As there are still many more hidden gems throughout the city, we'll be back again with a Part 2 in the future!
Looking for great Kyoto hotels and accommodations?
Stay in a Traditional Japanese-style Accommodations during your next visit to Japan
Rent a private machiya holiday house rentals (traditional Japanese townhouses), stay in a machiya boutique inn, machiya design hotels and more.
MACHIYA INNS & HOTELS (Kyoto & Kanazawa, Japan)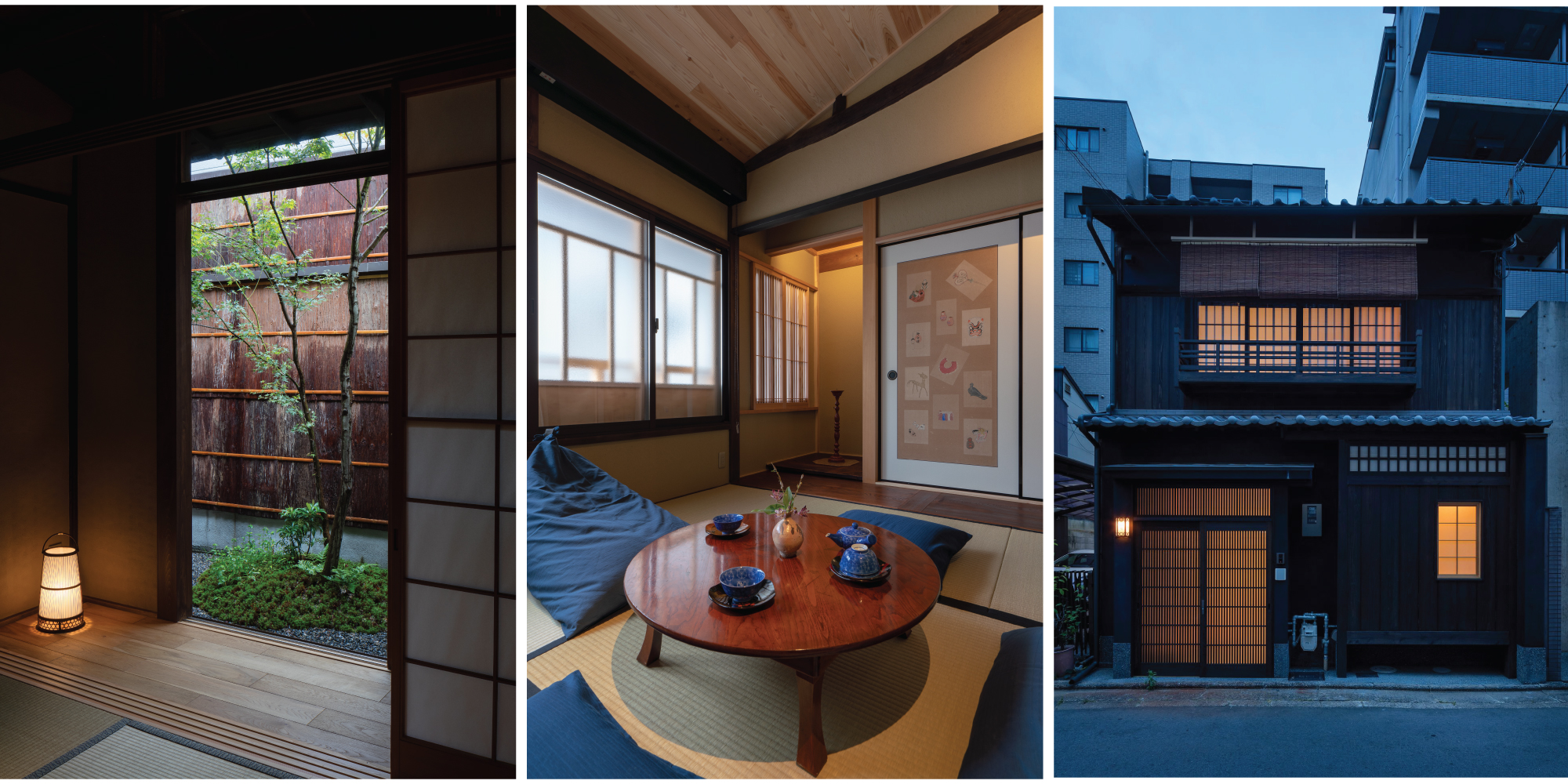 Every MACHIYA INNS & HOTELS accommodation has been renovated to maintain its unique traditional Japanese design, updated to meet the modern needs of our guests, and includes personalized & friendly guest services. Find out more via our official website: